Eastlands star underfire from striker.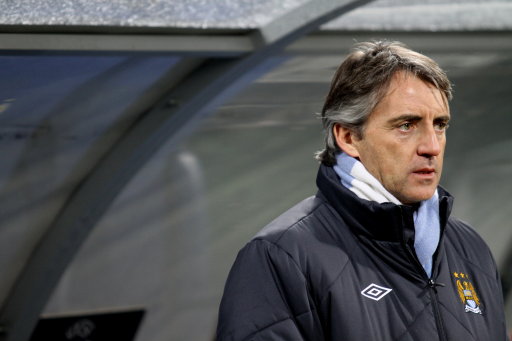 Manchester City striker Craig Bellamy reveals he has not spoken to manager Roberto Mancini and doubts he ever will again.
The 31-year-old striker blames the Italian's man-management style for the breakdown in communication and expects to be left behind when City travel to America for their pre-season tour.
The Wales international insists his career at Eastlands ended within days of Mancini replacing Mark Hughes as boss in 2009.
Mancini claimed Bellamy was feigning injury in his troublesome knee and last season shipped the goal-machine out on-loan to Cardiff City.
Bellamy, who only has one-year left on his current contract, would prefer a permanent move but is reluctant to take a wage cut.
"At present I expect to go back there and stay the whole year," he told the Daily Telegraph. "And if Mancini is still there I'll probably do very little.
"Obviously I won't be involved with him and the first team.
"It was tough (when Hughes left) – it was like losing someone. It was probably as bad as losing a family member in some ways. I even struggled to eat for a few days.
"It was a totally different structure which affected me completely. Mancini told me to stay with the team all the time. We had longer training sessions, but with no intensity whatsoever.
"He seemed to know my knee better than I knew it myself. He tried to explain why I had problems with it and what I should do about it.
"When I told him my knee was hurting, he tried to tell me it wasn't.
"Mancini wanted me to come in another day and do some work – but I told him I'd finished my work that day, that I was keeping to my own schedule.
"That was when he started about my programme, that I couldn't follow my own schedule while he was the manager – and that I had to do what he was telling me.
"He said 'if you don't you can go back home now. And don't come in again'. I replied 'okay, no problem, I'm going home then'.
"That was a week after he'd arrived – and then he never spoke to me again."
"If they pay me the final year of my wages, then I'm sure I can go wherever I want," he added. "In that case my first option would be Cardiff."
"I have my own academy in Sierra Leone, where I have to take care of 13 children, day in, day out. My wages are more important to them than they are for me."