South American correspondent Tom Webber brings you all the action from the Copa America.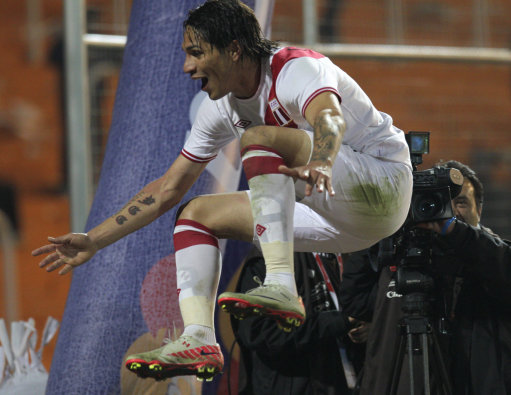 Injuries to Jefferson Farfan and Claudio Pizarro, Peru's two key strikers, has meant that someone else has had to put on the mantle up front for the Peruvians. Jose Paolo Guerrero of Hamburg has been that man. A notoriously difficult player to manage, Guerrero has been criticised for his poor attitude throughout his career. Now at the age of 27, the Peruvian is beginning to show signs of his maturity as he leads the line for his nation. Another goal in last night's 1-0 win over Mexico gives him two for the tournament and put Peru well in reach of a chance in the knockout stages.
The Peruvian striker began his career with Allianza Lima but was transferred to Bayern Munich in Germany before making his debut for Peru's biggest side. He began his Bayern career in their second team in the lower leagues of German football. He performed well over two years and was then moved into the first team, alongside his internatioal compatriot Claudio Pizarro. Guerrero struggled for match time in the first team but was touted as an extremely exciting talent.
As he struggled to break into a talented Bayern side he was transferred to Hamburg back in 2006. His first season was blighted with injury and he struggled to find form, being used sparingly as a substitute. However, throughout his time with one of Germany's most improved teams he has become a vital part of Hamburg's line-up.
His goal record has not been prolific for Hamburg, but he has averaged around 1 goal in every 3 games for the Germans. He does possess a decent international record with a similar goals to game ratio.
This Copa America has seen him become the central figure of this Peruvian side and he seems to be relishing the role. Playing as a solo centre forward, supported by wingers, he has regularly found himself in good positions and used the ball well for his side. His deciding goal last night was a true strikers goal. Guerrero stood at the back post in line with the last defender, who was standing further back than his teammates in defence. The ball was played across the box and Guerrero was in the perfect position to put the ball into the back of the net.
He is certainly leading by example and has now put Peru in a great position to qualify for the quarter finals. They will now advance if they do not lose to Chile in their final group game. Playing in a role of such responsibility seems to be suiting the striker. Whether he will continue to perform well as a lone striker against the big teams remains to be seen. However, Chile and Uruguay are two of the forerunners for the title behind Argentina and Brazil, so perhaps it will not faze him.
Despite his performances, he has missed a few opportunities where he should have perhaps scored. If he managed to put an extra one in a game then Peru would be an extremely difficult team to play against. The pressure seems to be aiding his performances so he may continue to improve as the tournament goes on. He may be targetted by defenders now due to his performances. As they try to stifle him it will be interesting to see how he copes, will he fall away, or will he rise above it and improve.
Guerrero has stepped up to the mark for his nation and given them a great chance to progress were others had written them off due to injuries. Juan Vargas's delivery will also be key as he looks to continue his great start to the tournament.