Two new strikers wanted by Etihad Stadium boss.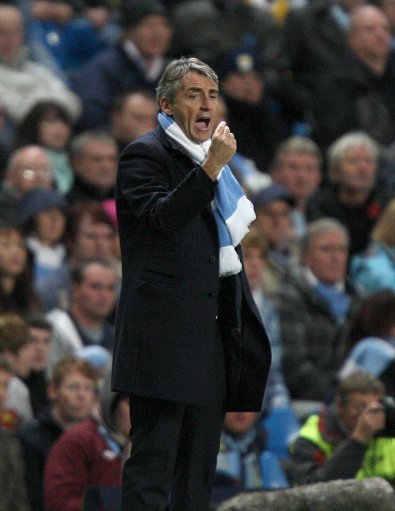 Manchester City are ready to flex their muscles in the summer transfer window with a sensational £55million double swoop for Inter Milan striker Samuel Eto'o and Atletico Madrid's Sergio Aguero.
City had opened tentative discussions with Inter over a possible swap involving Carlos Tevez and Eto'o last month but that was abandoned as figures, including the wage demands of the Cameroon striker, got too high.
However the latest step in the long-running saga involves an £18m transfer fee which is completely independent of Tevez, and Eto'o is keen to talk.
The two-time Champions League winner hopes to secure one final big contract before his stock begins to drop as he gets older, and was unimpressed when he held discussions with Inter president Massimo Moratti about improving his current deal. He wants a further two years with a salary to match City's offer.
The Eastlands outfit are wary having been in a similar position before when Eto'o left Barcelona, but have been assured he is more serious about the move this time.
SOURCE: Daily Mail
Yep it's time of the year again as Man City look to re-jig their squad and whilst the club has a myriad of striking options, with the likes of Mario Balotelli, Edin Dzeko and Emmanuel Adebayor on hand even if Carlos Tevez does leave, Roberto Mancini has set his sights on a truly explosive strike pair.
City have of course been strongly linked with interest in Inter Milan star Samuel Eto'o before but it seems that they are more confident of landing the Cameroon international now that they have Champions League football to offer the former Barcelona hotshot.
Sergio Aguero is also no slouch in front of goal and the Argentine has been in red hot form with Atletico Madrid, netting 95 goals for the Vicente Calderon side over the past four seasons. The 23 year old is now seemingly ready to consider a move to the Premier League but is also apparently a player that could interest Jose Mourinho as he looks to beef up his attacking options at Real Madrid.
Mancini will be looking to trim a number of squad players of the club's books and the likes of Craig Bellamy, Shaun Wright-Phillips, Jo, Roque Santa Cruz and Jerome Boateng seems set to leave the newly named Etihad stadium this summer.