Emirates Stadium captain on his way to the Nou Camp.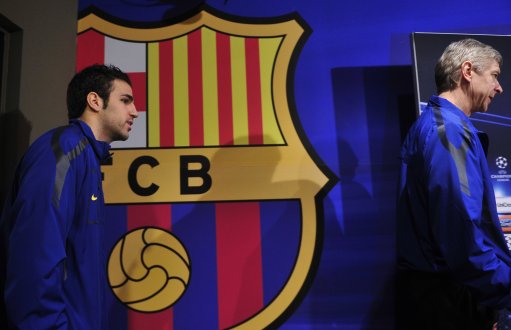 Barcelona are confident they will finally reach an agreement with Arsenal this week to secure the transfer of captain Cesc Fabregas.
Manager Pep Guardiola has run out of patience with the long-running transfer saga and told Barca president Sandro Rosell to meet Arsenal's £35million valuation to get the deal done.
Although Arsenal manager Arsene Wenger maintains he has no wish to sell the 24-year-old, the decision to allow ­Fabregas to leave the Emirates appears to have been taken out of his hands by the club's board of directors.
The player's closest friends in the Arsenal dressing room have felt for weeks he would move on this summer.
The fact that Fabregas has been allowed to remain at home through injury and miss his club's trip to the Far East simply fuels the belief that he will soon by heading home to Catalunya.
SOURCE: Daily Mirror
The fact that Arsene Wenger has stated repeatedly his desire to prevent Barcelona from re-signing Cesc Fabregas seems to have been a rather pointless exercise if this source is to be believed. With Gael Clichy already on his way to Man City and Samir Nasri reportedly set to follow the left back to the Emirates Stadium exit, it seems that Arsenal will see their squad diminished rather than improved this summer.
The Spanish midfielder has long since been linked with a return to the Nou Camp and now it appears that it's not case of if but when, the deal will go through. Clearly the moment that Arsenal put a figure on the 24 year old's head the challenge was issued to the Catalan to come up with the cash to sign the Gunners captain.
Clearly the North London club is feeling the after effects of a six successive season without silverware and the repercussions of falling behind Man United, Chelsea and now Man City in the Premier League pecking order, something that seems to have led many Arsenal players wondering what the future holds.
Fabregas has made no secret of his desire to one day return to Barcelona and it seems that day is getting nearer and nearer.
Barcelona however do apparently have some financial difficulties are present and Pep Guardiola may need to sell before he can buy.
Arsenal on the other hand are ready to accept offers for Manuel Almunia and Nicklas Bendtner, both players are expected to leave this coming week and were not part of the squad that left for the club's Asian tour.