Old Trafford boss closes in on Dutch midfielder.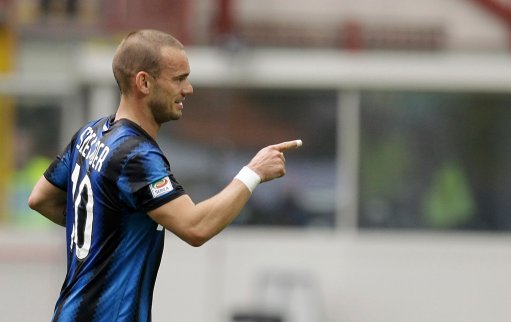 Manchester United and their noisy neighbours, Manchester City, are poised to bring two of the biggest names in world football to the Premier League in combined deals worth at least £100million.
Inter Milan's Holland midfield star Wesley Sneijder is ready to join Premier League champions United while Atletico Madrid striker Sergio Aguero – Diego Maradona's son-in-law – is close to signing for FA Cup winners City.
The two deals would make a dramatic impact on English football, with United expected to bid £35m to take Sneijder to Old Trafford and City prepared to pay £40m for Argentina's Aguero.
With wages added in, the total outlay by Manchester's two clubs would top the £100m mark.
Sneijder has been United's No 1 target all summer and an Old Trafford source said last night: 'Wesley is obviously a top player and we would love to sign him.'
Sneijder favours a move to Old Trafford rather than taking up an alternative offer from Spanish club Malaga, who are now funded by Sheik Al Thani, of the Qatari royal family.
Sources close to negotiations say they expect significant progress on a move to Old Trafford this week. A deal would take United's summer spending to a record £90m.
SOURCE: Daily Mail
By all accounts Wesley Sneijder will be offered a four year £200k a week contract which would run to an astonishing £41m to add to the £35m Inter Milan want to sell the Dutchman to Man United. Sir Alex Ferguson is said to be very keen to complete the deal which would then probably bring an end to the Old Trafford club's summer spending which has already seen the Premier League champions bring in Phil Jones, David de Gea and Ashley Young for a total fee in excess of £50m.
Ferguson is keen to not rest on his laurels and wants to conduct a major freshening up of his Man United squad and last week sold Wes Brown and John O'Shea to Sunderland and Darron Gibson is reportedly set to join the defensive pair at the Stadium of Light next week although Stoke City are also said to be keen on the Irish international midfielder.
Inter Milan have seen their manager Leonardo leave for PSG and it appears that as well as offloading Sneijder, new boss Gian Piero Gasperini may also receive offers from Man City for Samuel Eto'o, whilst Cristian Chivu is reportedly a Liverpool target.
27 year old former Ajax, and Real Madrid midfielder Sneijder won an impressive treble in his first season at the San Siro but then saw Rafa Benitez's brief reign at the club ruin any chance of a Serie A title last term and whilst Leonardo helped restore some pride he couldn't prevent an embarrassing Champions League exit at the hands of Schalke, a tie the Nerazzurri lost 7-3 on aggregate.
Ferguson sees Sneijder as a long term replacement for Paul Scholes and appears to have earmarked a move for the Inter Milan man ahead of interest in North London based pair Samir Nasri and Luka Modric.