South American correspondent Tom Webber brings you all the action from the Copa America.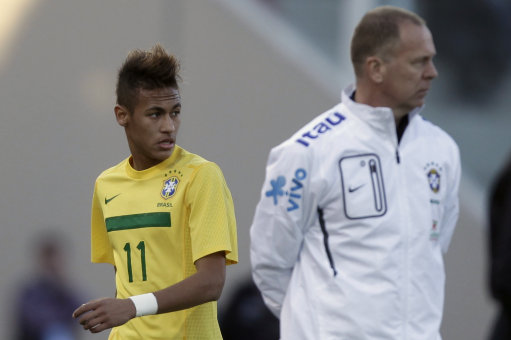 When Mano Menezes took over from Dunga after the 2010 World Cup in South Africa, he promised to 'revamp' the Brazilian side and make them play in a more attacking manner, when compared to Dunga's counter-attacking style. Menezes made changes in his first game, shifting to a 4-2-3-1 formation and including fan favourites Ganso and Neymar, whilst removing players such as Lucio and Kaka. He began using more and more younger players. Now 10 official games into his reign, he boasts a record of 5 wins, 3 draws, and 2 losses with 12 goals scored. This makes an average of 1.2 goals a game. This does not resemble the attacking style of football promised by Menezes, nor does it meet what you would expect from the Brazilians. Last night's 2-2 draw with Paraguay highlighted this fact as the Brazilians were fortunate not to finish the day bottom of the group.
This Brazil squad lack a top class striker since dropping Luis Fabiano. In his last few years Fabiano has proven to be fairly prolific, operating in one of the worlds toughest leagues. This Copa America has seen Neymar and Alexandre Pato used as the attacking duo for the Brazilians, neither of which is your typical 'number 9'. Pato operates by running between the channels, offering a fantastic first touch, but often looks to get in behind rather than help build the play. He missed a glorious chance to open the scoring after being slipped in by Ganso, he tried to round the keeper but Justo Villar kept up with him and made the save.
Neymar has been out of sorts so far this tournament. He has not shown the same class that helped lead his Santos side to Copa Libertadores victory last month. For a 19 year old to already be playing as a first choice striker puts a lot of pressure on such young shoulders. The truly expectant nature of the Brazilian fans add to this burden and push it beyond that of club level. Perhaps it is too early for him or maybe he is still just warming up.
To operate in this unfilled role, Menezes saw fit to call up Fred. Though he scored a late goal in last nights draw with a volley on the spin, leaving the keeper rooted to the spot, is he really of enough quality for Brazil? Andre or Hulk could have been better choices than Fred, even Leandro Damiao. All are less experienced than Fred however, in both age and caps, making him the most logical choice. It seems that their is a real shortage in this position in Brazilian football currently.
Menezes has been praised for his flexible tactics which have seen him play a variety of formations since taking over. This can be positive in the fact that they can fit their strikers in in a variety of positions, allowing them to move them about easily in order to best challenge a defence. Sometimes the Forward line can become isolated however, especially in a 4-2-2-2 formation. This is Menezes current combination but with Ramires and Lucas Leiva playing very deep, it is difficult for them to link up with the strikers without playing a long ball. They try their best and work hard but this means that there is a lack of creativity coming from the middle of the park. Hence, there is a lot of pressure put on youngsters Ganso and Neymar. We only saw a flash of that one touch, pass-and-move Brazilian play that we are accustomed to in the Pato chance previously mentioned. Ganso performed to a higher standard against Paraguay last night, but again, being put in the starting line up from such a young age is a risk.
There is also the issue of the left back. First choice would be Marcelo of Real Madrid but he is often 'injured' when called up for Brazil and has left the media questioning his dedication. Andre Santos draws a lot of criticism then as the next choice at left back,. He is preferred to Michel Bastos due to the fact that he is better defensively than the Lyon man. There is no doubting Bastos's quality but he plays in an attacking role for Lyon so it is of detriment to his defensive abilities for the national team. It would seem Andre Santos is the only feasible option, unless Menezes risked Maicon at left back, though this is extremely unlikely to happen and probably would not suit the Inter man. Paraguay kept the Brazilian full-backs at bay yesterday with Marcelo Estigarribia causing Dani Alves multiple problems. This helped break up the link between attack and midfield as they could not bomb on as they usually would. At times Ramires even dropped back to help Alves cope with the tricky Paraguayan winger. Estigarribia had another fantastic game and was given a standing ovation when he left the pitch.
The lack of quality in depth when compared to the 2002 World Cup Winning side and other previous squads is very apparent. However, there is nothing to be done about this. Menezes must use the best players available to him and deploy them in the most suitable formation. He has still yet to find this correct combination as his teams struggle for results. He will need to find the key to unlock the Brazilian potential if he hopes to keep his job after this tournament. They lost their cool in the last World Cup when things did not go there way, could this occur against Ecuador as they fight to progress in their final group game?
Brazil were extremely luck to end up with a point yesterday. They did not deserve to take a lead in to half time, but it was great to see Roque Santa Cruz score after his terrible time with Manchester City. Brazil can still progress by defeating Ecuador but that may not be enough to earn them a good draw for the quarter finals, or to keep Menezes's job safe.