Villa Park boss has to win over fans but has the managerial tools to do so.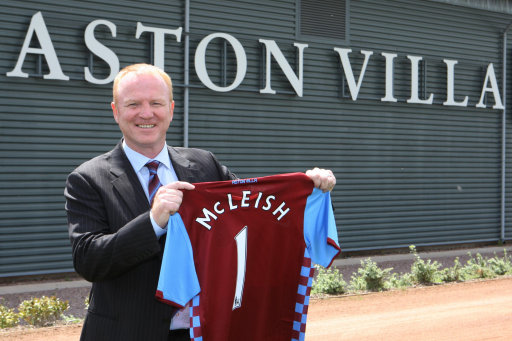 Despite not being the most popular appointment of the season, Alex Mcleish will do a good job with Villa.
Under Houllier Aston Villa's main problem was keeping clean sheets, partly due to the Frenchmans fall out with key defender Richard Dunne, however Mcleish's teams have always been defensively good and the Scott has a great eye for a good defender, capturing the likes of Roger Johnson and Scott Dann, with the laters injury a key reason in why Birmingham were relegated.
Birmingham City only registered 75 goals in their last two Premiership seasons, less then a goal per game mainly down to the fact Mcleish never had a goalscorer in the team. Cameron Jerome was their top scorer in their impressive first season back in the Premiership, however in their second season most of their goals came from midfield with Craig Gardner leading the way with just eight. Yet when Mcleish starts his reign with Aston Villa, he knows he has a centre forward at the club who guarentees goals in Darren Bent meaning the Scot can spend the money from the Ashley Young sale for defensive additions, where his knowledge is broader.
With their lack of goals came a lack of fluid attacking play, earning Mcleish a reputation of playing dull football. Despite the creative likes of Stewart Downing, Stephen Ireland and the aformentioned Bent, Mcleish isn't expected to change his mentalitity. The question is will the fans adapt to a more win at all costs style of football which may not be pretty to watch.
After a Carling Cup success with Birmingham City last year Mcleish has proven he has what it takes to win silverwear, something Villa haven't achieved since the 1994 League cup success over Manchester United, a stat Villa will be desperately hoping to bring an end to after being put in the shade by their rivals cup success.
An added bonus for Villa this year is the lack of European competition. With the likes of Fulham and Stoke, two sides who finished in and around the midlands club last year, the heavy fixture list will have an affect on their relatively small squads. Whereas Aston Villa don't have to play every Thursday and Sunday meaning their squad will be fresher then most.
Despite two relegations with Birmingham, the Scotts CV reads well, with success at all three Scottish clubs he managed, notably at Rangers where he ended the Celtic dominance under Martin O'Neil, ironically the man who took Aston Villa from the obscurity of the lower regions of the Premiership to the verge of Champions League football. After narrowly missing out on Euro 2008 with the Scottish national side, Mcleish joined Birmingham where the Scott endured a rollercoaster of a ride culminating in two relegations, a highest league finish in 30 years, a promotion as well as their Carling cup truimph.
The last year for Aston Villa has been very chaotic, with five different men at the reign, and with Mcleish comes stability and given money and reassurances that the likes of Downing won't follow Young out the door, it could be a very good season for the Villa. The appointment may neither have been the boards or the fans first choice, yet it could turn out to be an inspired one.