Emirates boss in bullish mood over stars.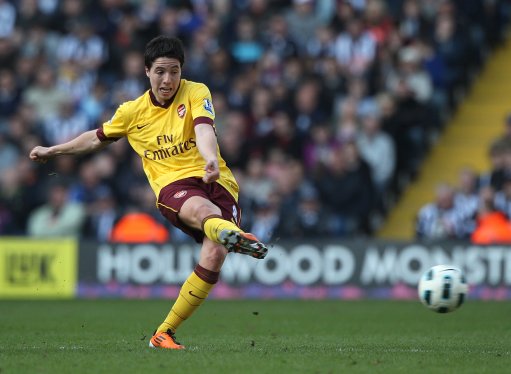 Arsenal manager Arsene Wenger is sure captain Cesc Fabregas and midfielder Samir Nasri will both remain at the club next season.
Fabregas, 24, has once again been linked with move to his boyhood club Barcelona, with the Gunners even rejecting a £27million offer.
The move has been on the cards for the last 12 months with constant claim and counter-claim coming from both sides.
Nasri, 23, only has 12 months left to run his current contract and has so far refused to sign a new five-year £100,000-a-week deal.
Manchester United and Manchester City have both been linked with the France midfielder, who says he will only sign a new deal if the Gunners buy big-names this summer.
Gervinho has been signed from Lille in what is believed to be an £11million deal, while the only other notable signing has been Carl Jenkinson from Charlton.
But Wenger sounded positive today that both would be lining up for the Gunners in August, as he spoke in Kuala Lumpur ahead of Arsenal's pre-season tour of the area.
"Cesc loves the club and hopefully we will manage," he told Sky Sports.
"We know that this story for Barcelona has gone on for years now, we have to close that and focus on the season, hopefully with Cesc Fabregas."
Asked about Nasri, Wenger added: "Will he be at the club next season? I say yes. Will he sign a new contract? I hope yes, but I am not the only one to decide."