Etihad Stadium star on his way back to Brazil.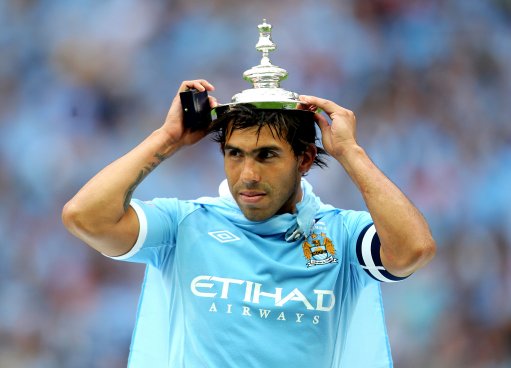 Manchester City captain Carlos Tevez is determined to quit the club and re-join Coritnthians in a £40million move, according to his agent Kia Joorabchian.
The 27-year-old has already declared he wants to be closer to his family in Argentina but City were prepared to play hard ball over a transfer fee.
The Blues value Tevez at around £50million, and with potential suitors in Spain and Italy apparently showing little sign they are willing to spend that much, any move was looking unlikely.
But the Argentina international is so desperate to make the move happen, he will personally drive any deal.
It is thought the massive transfer fee would be funded through sponsorship and money from TV rights.
Tevez has scored 53 goals in 86 appearances for City since joining them in 2009 and skippered them to FA Cup glory and Champions League qualification last season.
Joorabchian says Tevez has set his heart on a return to the club he left to join West Ham five years ago, but claims there are European clubs on his trail too.
"His dream and mine is to see him back with Corinthians," Joorabchian said.
"He said he has a job that does not end there. He wants to return because he has the dream of winning the Copa Libertadores.
"The priority is Corinthians, but we have other options.
"Carlos was the best player in the Premier League (last season), he was the top scorer of the team for two consecutive years, he won the FA Cup.
"He has much appeal in the European market. He is no longer a boy, today he is a great player.
"Carlos will not play for any other Brazilian club than Corinthians, that is an absolute certainty," Joorabchian added.
"Boca Juniors and Corinthians are in his heart. He would only play for these two clubs if he when back to Brazil and Argentina."