Etihad Stadium striker interested in return to Sao Paulo club.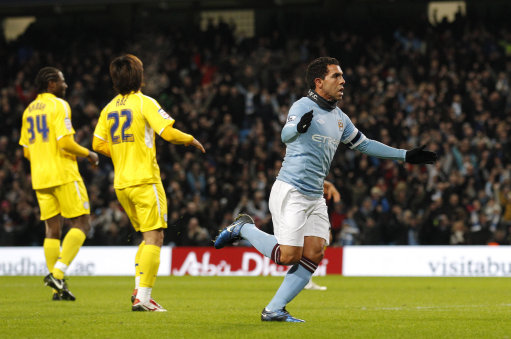 Carlos Tevez says he would be happy to return to Corinthians after the Brazilian club tabled a £40million offer for the Manchester City striker.
Tevez, dropped for Argentina's 3-0 Copa America win over Costa Rica on Monday, declared earlier this month that he wished to leave City for the sake of his family.
With none of Europe's leading clubs apparently interested in spending the £50million City suggested was the fee they would expect for their captain, it was starting to look like Tevez might spend next season at the renamed Etihad Stadium after all.
However, now has come news of Corinthians' interest with Tevez telling Telefe: "If there is interest, I don't have any problem in returning to Corinthians."
Tevez used to play for the Brazilian outfit before heading to West Ham five years ago – the start of a turbulent spell in England that has also involved two seasons at both Manchester clubs.
It is thought the massive transfer fee, almost treble the club record £13.7million that got him to the club in 2005, would be funded through sponsorship and money from a new TV rights deal in Brazil.
The director of Corinthians, Duilio Montero said: "We have the intension and we will work hard for aming the dream come true".
SOURCE: Sky Sports
This could be a good test of Carlos Tevez's real intentions. The Man City striker has stated that his desire to leave the Premier League side is so that he can be nearer his family which then makes a mockery of moves to continental sides Real Madrid and Inter Milan, given that neither club would bring him any nearer to his loved ones, based in Argentina.
Now an offer from Corinthians, a club that Tevez spent 18 months at before moving to West Ham, may tempt the 27 year old and the Brazilian club appear able to offer a significant fee to bring the striker to Sao Paulo.
Tevez helped the Corinthians to Campeonato Brasileiro success in 2005 and it will be interesting to see if the Etihad Stadium side are willing to accept an offer that still fails to meet their apparent £50m valuation.
Roberto Mancini is looking for adequate replacements for Tevez and seems to want further striking signings despite have Mario Balotelli and Edin Dzeko to hand. Emmanuel Adebayor is set for a huge fine after refusing to turn up to train with the club's second string. The likes of Craig Bellamy Jo, Roque Santa Cruz and Jo are all expected to leave this summer.