Dortmund rule themselves out of running for Emirates hit-man.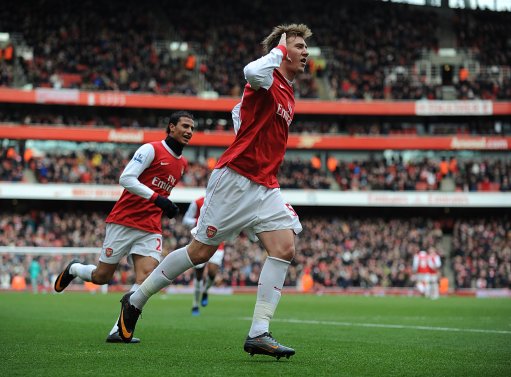 Hamburg have confirmed their interest in signing Arsenal striker Nicklas Bendtner as Borussia Dortmund rule themselves out of the race.
The 23-year-old will leave the Emirates this summer after six years in north London and was left out of the club's pre-season tour to Asia.
The Denmark international has been linked with moves to AC Milan, Dortmund, Sporting Lisbon and Benfica but no one has yet matched his £12million valuation.
Hamburg sporting director Frank Arnesen admits he is a fan of the 23-year-old but concedes it would take a "small miracle" to secure his signature.
"We need more creativity in our offence," he told Hamburger Abendblatt. "A midfielder with quality would be good for us.
"Bendtner would be a real dream, he is a very interesting player. He can also play as an attacking midfielder behind the attacker.
"But it would almost amount to a small miracle for us to get him.
"There are two other clubs who have made Nicklas an offer and we are unfortunately not in that position."
Dortmund believe a move for Bendtner does not fit in with their current philosophy.
The Bundesliga champions have some financial issue and club chief executive Hans-Joachim Watzke insists there will be no "paradigm shift" despite their recent success.
"There has never been an offer from Borussia Dortmund for Nicklas Bendtner," said Watzke, according to Hamburger Abendblatt.
"Of course we could make larger transfers… but we don't want to borrow any money."