Old Trafford boss talks about Emirates Stadium star's possible departure.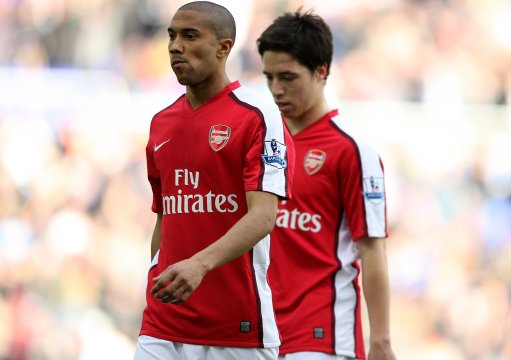 Sir Alex Ferguson believes Samir Nasri could leave Arsenal, but not to join Manchester United.
The United manager spoke to the press shortly after arriving in Boston for the start of the club's pre-season tour of the United States.
Nasri has also been connected with Manchester City, with both they and United said to have bid around £20million for the France midfielder.
But Ferguson hinted that if he is leaving the Emirates this summer, it could be to the other side of Manchester.
"I don't think he is coming to United," he said.
"That is all I can tell you. I think that he has agreed to go somewhere else."
SOURCE: Sky Sports
And according to a plethora of sources that 'somewhere else' is Man City. This could of course all be expert mind games from the Old Trafford boss who is known to be keen on the Arsenal attacker but if not, perhaps it is a tacit acknowledgement that Roberto Mancini is set to snap up another Gunners star having already picked up Gael Clichy earlier in the month.
Ferguson has himself already nabbed three top quality signings in Phil Jones, David de Gea and Ashley Young but apparently is still looking to bring in a creative midfielder having already expressed an interest in Luka Modric and Wesley Sneijder.
Could French international Nasri have been swayed by a move to the Etihad Stadium? Arsene Wenger has been repeating his mantra that he 'hopes' both the former Marseille man and Cesc Fabregas will still be at the club when the new season starts but there is a groundswell of opinion that suggests that such hopes are perhaps wishful thinking on the Gunners boss's behalf.
Wenger is thought to be resolute about his assertion that he would not sell either player to a fellow Premier League rival but if a forthcoming offer of note does not materialise then the Arsenal boss may be forced to either stick by his guns and lose Nasri for nothing in 12 months time or accept defeat and sell a player who appears to have no intention of signing a new deal.