Emirates boss says Etihad Stadium change makes mockery of FFP.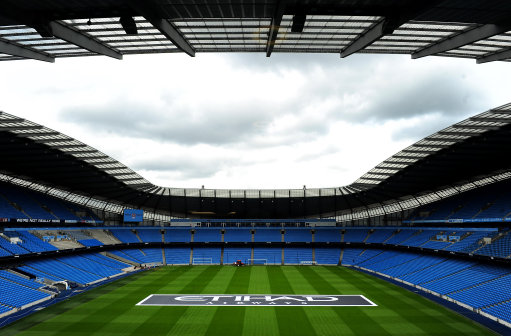 Arsenal manager Arsene Wenger insists Manchester City's £400 million commercial deal with Etihad Airways will make a mockery out of Uefa's Financial Fair Play rules.
The Gunners boss believes City are trying to bend the new regulations to gain a competitive advantage over less wealthy clubs, and Uefa must prevent the deal from standing.
The Blues announced a 10-year agreement for the biggest stadium naming-rights and shirt-sponsorship deal in history last week.
It was struck between the club's billionaire Abu Dhabi owners and their country's government-owned airline.
The deal will help City comply with Uefa rules regarding financial resources, where the club can only spend what they make.
The governing body will ban clubs from European competition from 2014 if they consistently make losses, as City have done under the ownership of Sheikh Mansour.
Uefa promised to investigate agreements such as City's to prevent clubs finding loopholes in the system and making deals with closely linked businesses that far exceed market value.
Wenger is convinced the FFP rules will be rendered useless unless Uefa's analysts decide City's income from Etihad is in excess of the sum a club of their size could reasonably expect.
"It raises the real question about the credibility of Financial Fair Play," Wenger said. "That is what it is all about.
"They give us the message they can get around it by doing what they want. It means Financial Fair Play will not come in. It is as simple as that.
"The credibility of Financial Fair Play is at stake. The sponsorship cannot be doubled, tripled or quadrupled because that means it is better if we leave everybody free.
"But if they bring the rules in, they have to be respected.
"He (Michel Platini) is not stupid, he knows as well that some clubs will try to get around that and at the moment I believe they are studying, behind closed doors, how they can really check it.
"That is where Financial Fair Play is at stake."
A spokesperson for City responded last night, saying: "The financial details of the agreement between Manchester City and Etihad Airways remain confidential and figures being speculated about are not accurate.
"Manchester City is a pro-active member of the European Club Association and is working actively and with transparency with regard to Financial Fair Play.
"In light of these facts, recent comments about the partnership by some observers are unfounded and regrettable."