Old Trafford boss ready to bid for long term Napoli target.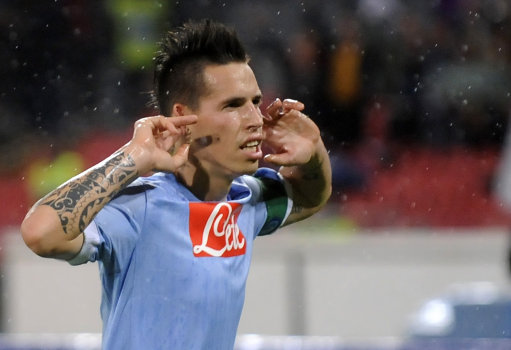 Man United are ready to make a swift bid for Napoli playmaker Marek Hamsik if they fail to complete moves to sign either Wesley Sneijder or Samir Nasri from Inter Milan or Arsenal respectively.
Hamsik has long been a target for Sir Alex Ferguson and the Slovakian international has been repeatedly linked with a move away from Napoli this summer and AC Milan have shown a great deal of interest in the 23 year old who has been a huge success in Serie A.
The former Brescia man has progressed year on year during his seven seasons in Italy and is now considered one of the best foreign players on show in the Italian top tier but the talented goal scoring attacking midfielder has stated that if an offer from a 'big club' was forthcoming then he, and Napoli, would consider it.
Indeed the Naples side have placed a €40m (£35.1m) valuation on Hamsik and reportedly that is a fee that AC Milan are reticent to fork out but Ferguson may well be ready to pay the price if they fail in their pursuit of the aforementioned targets.
The Old Trafford boss sees the capture of a goal scoring midfield threat as the final piece of his summer signing puzzle and is ideally looking for a player that fulfill the kind of role Paul Scholes filled during his Man United pomp. Ferguson's current central midfield options offer different attributes but the likes of Michael Carrick, Anderson, and Darren Fletcher are not hugely creative hence the Man United manager's very public interest in Sneijder and Nasri.
Hamsik has scored 47 goals in four seasons at the Stadio San Paolo and has been an invaluable link between midfield and attack, helping Walter Mazzarri's side clinch a Champions League spot for the coming season.
Man United have already spent over £50m to bring Phil Jones, David de Gea and Ashley Young from Blackburn Rovers, Atletico Madrid and Aston Villa respectively and Ferguson wishes to make one more 'marquee' signing as a further statement of intent to their Premier and Champions League rivals.
Having already sold Wes Brown and John O'Shea to Sunderland there is every chance that further Man United players on the periphery of the first team squad will be sacrificed to make room for additions and to help balance the books.