Former Everton Academy coach makes totally pointless and totally unfounded statement about Old Trafford striker.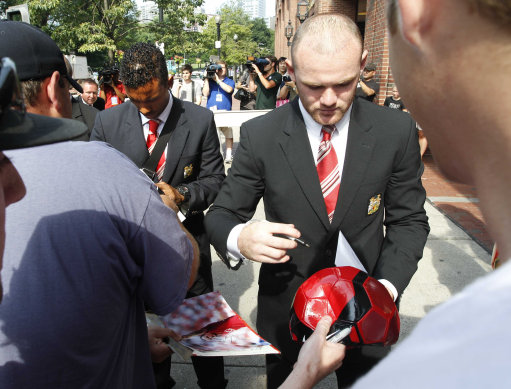 The junior coach of Manchester United star Wayne Rooney is convinced he wants to move to Spain.
Tony 'Tosh' Farrell nurtured the teenage Rooney at Everton's Academy and played a key role in the development of the United and England striker.
"Wayne always had the potential," Farrell told the Boston Globe. "But I personally think he's going to be even better.
"Is he going to be at Manchester United forever? Personally, I think he's going to move on to Barcelona or Real Madrid. I think he's going to want to challenge himself.'
SOURCE: Tribalfootball
One wonders why Mr. Farrell decided to make this statement and what evidence he has to do so. Does Wayne Rooney still converse with the former Everton Academy coach.
It would be mighty odd if the England international would push for any such move in the near future, not given the anger and irritation the striker put his club under when he attempted to force an exit last season, actions that he later apologized for.
There would appear to be no real need for Rooney to push for a move at the present time. He is plying his trade with the Premier League champions who battled their way to the Champions League final last term and have wasted no time in purchasing some great additions to the already impressive Old Trafford squad.
On the subject of 'Tosh' Farrell, well according to Wikipedia, that fountain of truth, he now resides in Boston where his wife and their dog, Tilly. Oh, and he is apparently he is developing his Tosh Farrell Soccer Development Camps, would it be cynical of us to suggest that perhaps Mr. Farrell took the opportunity to make his statement in order to attract publicity to this project?
What do you think?
Coincidentally, or perhaps not, Wayne Rooney and the Man United squad are in Massachusetts to play a friendly. What are the odds?