Italian ditches Wembley role for the Stadio Olimpico.
Watching England v Netherlands? Check In With the Great New COS Facebook App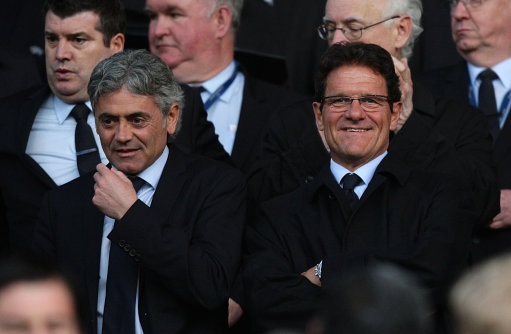 England general manager Franco Baldini will quit his job in October and take up a role at Serie A giants Roma, the Football Association announced.
The Italian will leave his Wembley post at the end of England's Euro 2012 qualifying campaign.
Baldini has been used as the main contact with Capello's players but it has long been speculated that he would like to take the offer of a job with the Italian club.
But Capello can still call upon his trusted aide on a one-off basis for a friendly against an as yet unnamed opponent in February and also at Euro 2012 should England qualify.
"Franco has been given a good opportunity by Roma but I am happy he will stay with me and the England team until after the qualification programme," Capello said.
"For me, this is very important. We can decide after this if Franco will be with us for the European Championships."
The FA are yet to say if Baldini will be replaced but for them the news is good financially, as the expensive Italian will now be off the payroll.
But with Capello due to stand down at the end of Euro 2012, the FA have already had to fend off suggestions that England lack focus.
Their position at Euro 2012 is not certain and a trip to Podgorica in October will decide if they reach Poland and Ukraine automatically or face a hazardous play-off the following month.
The FA have confirmed Baldini will remain in post until that qualification programme is complete, even if the two matches in November are involved.
"We respect his decision to accept the offer from Roma," FA chairman David Bernstein told the website.
"I would like to thank Franco for the professional way in which he has handled this and maintained his sole commitment to working with Fabio and the team until after the qualifying games."