Emirates and Etihad Stadium icon will always be remembered.
Watching Hangzhou Greentown v Arsenal?

With the Great New COS Facebook App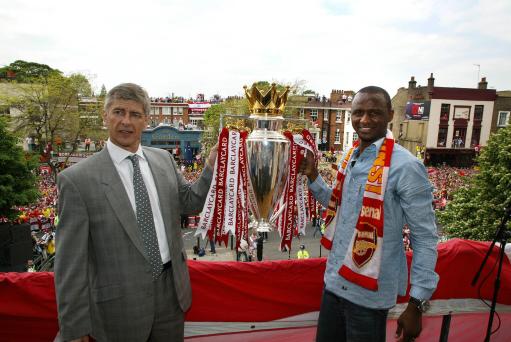 Following the announcement that Patrick Vieira will never play a professional game again, we decided we need to show some of his best bits from his 18-year career.
The 35-year-old will now take up a role as a youth developer but hopefully he will teach the kids about he used to play and not get into fights.
Because the Arsenal, Inter Milan and Manchester City trophy winner certainly got into a few scraps in his playing days.
But he did more than just get red cards as shown by 15 club winners medals, as well as lifting the World Cup and European Championships with France.
He famously captained the Gunners' Invincible team of 2003-04, which went the entire season unbeaten on their way to lifting the Premier League trophy.
We have five videos for you, spotted by our friends at 101 great goals, including a couple of scraps and couple of great goals. Enjoy!
Patrick Vieira v Roy Keane – 2005
Paddy will always be remembered for this moment. United versus Arsenal was the game in the late nineties and early noughties and these two men summed up the pure hatred both teams felt towards each other. This time they did not even wait to get onto the pitch to start having a go with ref Graham Poll having to separate them in the tunnel.