Anfield boss linked with ambitious move to sign Bernabeu striker.
Watching Malaysia XI v Liverpool?

With the Great New COS Facebook App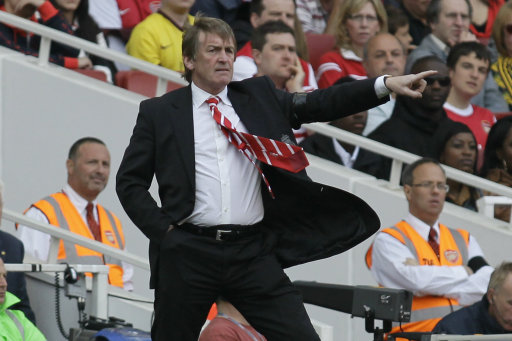 Liverpool FC want to make one big surprise signing this summer and have earmarked Real Madrid and Argentina stiker Gonzalo Higuaín as the player to add some gloss to Anfield next season.
Whilst Jose Mourinho has claimed he will not be selling his main stars, the arrivals of numerous other players this summer at the Bernabeu will mean that players will look to move on if not guaranteed starting places. Mourinho has already been linked with a move for Manchester City's Carlos Tevez as well as Brazlian teenage Neymar.
Although there have been reports that Real would be prepared to include Higuain in the Tevez deal, sources close to Footybunker claim the Spanish giants would be well within their limits to be able to purchase Tevez outright. Liverpool however want to make a statement of intent and although they cannot offer Higuain any European football for the coming season, the chance to join such an historic team with a completely fresh agenda would be something that would appeal to the 23 year old.
Liverpool realise that Higuain will not be sold cheaply and are looking to prepare a serious bid of at least £25m for the Argentine.
SOURCE: FootyBunker
Having already snapped up four quality additions to his Anfield squad, this source believes that Liverpool boss Kenny Dalglish is ready to make his most ambitious bid yet. There is an argument that the Merseyside club could do with more attacking options but would that result in a bid of this magnitude, probably not.
Liverpool have Luis Suarez and Andy Carroll as their first choice pairing and then have Dirk Kuyt, who is clearly working more on the wing these days, and David N'Gog, who is still to make an impact. Therefore there have been many stories linking the club with moves to bring in another striker but the idea they may make a move for Argentine international Gonzalo Higuain appear more than a little far fetched.
The French born 23 year old is arguably Real Madrid's most effective striker having netted 66 goals in 109 games over the past three seasons and his absence through long term injury for most of last term cost Jose Mourinho dearly and the Bernabeu boss was forced to count on misfiring Karim Benzema and then on loan Man City front man Emmanuel Adebayor and as a result lost ground on La Liga champions Barcelona.
Real Madrid have been strongly linked with a move for Carlos Tevez and if that move did come off then perhaps Higuain would consider leaving but right now he is a player that Mourinho can not afford to lose. The former River Plate striker is currently on international duty at the Copa America.
In other news Liverpool appear close to agreeing a deal that will see Milan Jovanovic move to Anderlecht on a free and it appears that youngster Daniel Pacheco will not be joining Coventry on a season long loan deal.
There is also growing speculation that Joe Cole may be heading to Aston Villa although his recent appearance in the friendly with Guangdong appears to suggest the former Chelsea man still has a future at the club and the same could be said for Christian Poulsen who is apparently being pursued by FC Copenhagen.