There are differing reasons as to what was the cause of this trouble but apparently what started out as an innocent celebration of a Sammy Ameobi goal turned into a mini riot when one Newcastle United fan reportedly punched a female steward.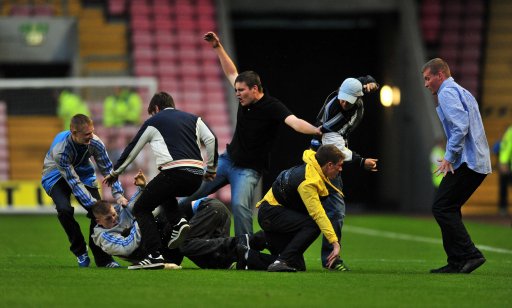 Joey Barton was cast in the unfamiliar role of peacemaker last night as a massive pitch invasion marred Newcastle United's pre-season friendly at Darlington.
Barton, unable to travel with his team-mates to America next week because of his criminal record, was the voice of reason amid ugly scenes in which a steward was allegedly punched by a fan.
There were claims that Newcastle managing director Derek Llambias, owner Mike Ashley's righthand man, was verbally attacked by a group of Geordie fans in a bar at the Darlington Arena before the game.
Newcastle boss Alan Pardew had to appeal for calm as the friendly came close to being abandoned by referee Colin Webster.
Some 500 of the 6,000 visiting fans forced their way on to the pitch to celebrate a Newcastle goal by Sammy Ameobi in the 56th minute.
Barton, captain for the night, was surrounded by supporters but stayed cool and helped clear the pitch. There was a second invasion and a small scuffle, forcing Darlington manager Mark Cooper to remove his players.
'It only takes one idiot to produce a knife or a bottle and you have a problem,' said Cooper.
'The worst thing is I saw a lot of young kids about.'
SOURCE: Daily Mail