Etihad Stadium striker on this way back to former club.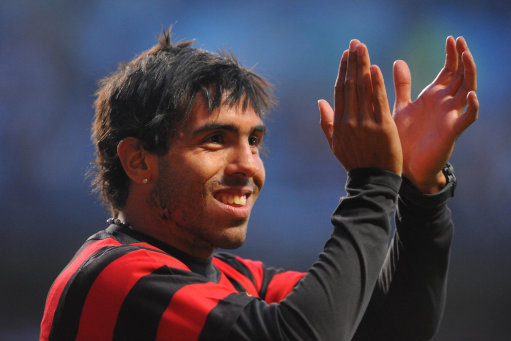 Manchester City manager Roberto Mancini has said that an agreement has been reached for the sale of Argentina striker Carlos Tevez to Corinthians.
A £39m bid from the Brazilian club was rejected last week, with City believed to be holding out for £50m.
Tevez, 27, had said he wanted to leave the Premier League outfit to spend more time with his family in his homeland.
"We have an agreement with Corinthians but Carlos now is still a City player," Mancini told Sky Sports News.
The Sao Paulo club, backed by revenue from a new television deal, want to make Tevez a landmark signing by taking him back to the club where he previously enjoyed success.
SOURCE: BBC Sport
So Carlos Tevez has finally got his own way…again. Having stated that he wanted to leave Man City to be nearer his family he has now secured a move back to his former club Corinthians, a club he angered when he demanded to be allowed to leave to move to the Premier League back in 2006, yes there is a theme developing here.
The 27 year old may well be the most disloyal footballer on Planet Earth and that is no idle boast. Having moved to West Ham Tevez then helped keep the Hammers clear of relegation and moved on to Man United where he was initially a success but then lost his regular starting spot and then left for arch rivals and Man City and after a couple of consistent seasons is now set to move on again.
Roberto Mancini will sorely miss the Buenos Aires born striker who hit 52 goals in two seasons and helped the club to reach the Champions League and now the Italian must look to find an adequate replacement with Atletico Madrid's Sergio Aguero reportedly being uppermost in his thoughts.