Emirates club not interested in prima donna.
Join the FREE CaughtOffside Fantasy Football League and Win Big Prizes!
to Koln v Arsenal with the Great New COS Facebook App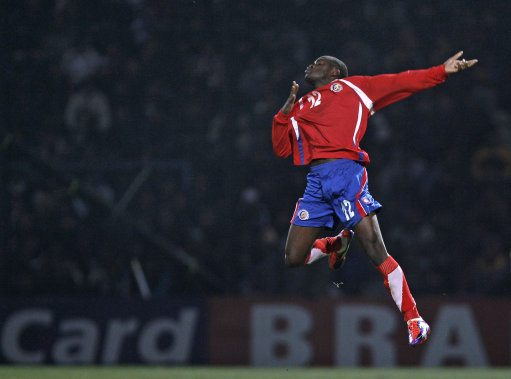 Arsenal have pulled the plug on a £950,000 agreement to sign Deportivo Saprissa striker Joel Campbell, after he failed to turn up to a scheduled meeting last night.
The 19-year-old was expected to undergo a routine medical after the clubs agreed a fee over the weekend, but that deal is now off as reported on the excellent Arsenal source Gunnerblog.
The Costa Rica international and his agent father, Humberto, were due to meet Arsenal assistant chief executive Richard Law at the Intercontinental Hotel in the South American country.
Humberto Campbell claimed they were absent due to the medical tests being undertaken, but Arsenal were suitably unimpressed to pull out of the deal.
The news will be a second blow to Arsenal's summer transfer plans, after missing out on Argentinian midfielder Ricky Alvarez, another deal Law was setting up.
The president of Saprissa, Juan Carlos Rojas, confirmed the deal was off but praised the way Arsenal handled the situation.
"It's a disappointment for football, for Saprissa and for me that they have decided not to take up an offer from as serious and first-class people as Arsenal," he said.
"I hope it works out for Joel. I assume his father thinks that things will get better and that's why he made this decision, but hey, there's always a risk.
"It's a shame that Costa Rican football could not have a player at Arsenal at this time.
"There is no other option; the doors are closed."
Humberto Campbell seemed unmoved by the news and will carry on touting his child around the European clubs.
"If the Arsenal option is closed there is no problem. When one door closes, many open."
FC Koln v Arsenal Live Streaming