Old Trafford legend claims 'football is just a business'.
Join the FREE CaughtOffside Fantasy Football League and Win Big Prizes!
to Seattle v Man United with the Great New COS Facebook App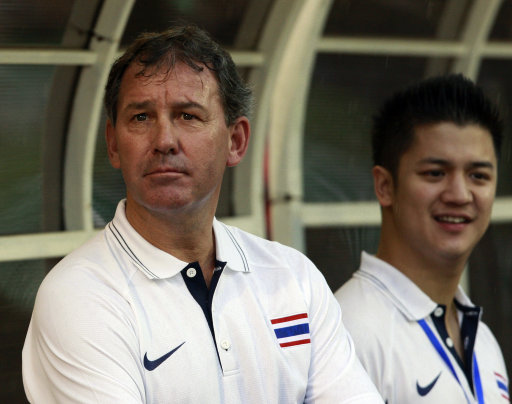 Manchester United legend Bryan Robson was caught on camera explaining to foreign investors how to break rules over club ownership.
The 54-year-old was trapped by Channel 4's Dispatches show brokering deals to help the money men buy two football clubs at once.
This would break Football Association and Premier League rules, with Robson instructing the investors what clubs to buy and how to get players.
The programme claims United boss Sir Alex Ferguson will help by providing players from the Red Devils academy to help boost promotion hopes.
Robson's friend Joe Sim, chief adviser to the Thai FA claims he would arrange it all with Ferguson
"Once you have put £5million into the fund, I'll arrange for you and me, we have dinner with Sir Alex Ferguson, then Sir Alex Ferguson will tell you that he is going to lend me the players."
Birmingham City, Leicester City, Sheffield United and Sheffield Wednesday were all mentioned as possible clubs worth buying cheap and taking into the Premier League.
Robson said once the clubs were in the top flight they could be sold for hundreds of millions, making a nice profit for any investor.
Partial footage has been released from the "How to buy a football club" show with Robson's money quote: "Football is just a business."
The former Manchester United and England captain adds: "Build it up from nothing and say it was worth three million when you bought it and now you can sell it for £150million – that's great business by you."
Video provided by Dispatches and spotted by 101 Great Goals
Seattle Sounders v Man United Live Streaming