St Mary's starlet wants Emirates transfer.
Join the FREE CaughtOffside Fantasy Football League and Win Big Prizes!
to Cologne v Arsenal with the Great New COS Facebook App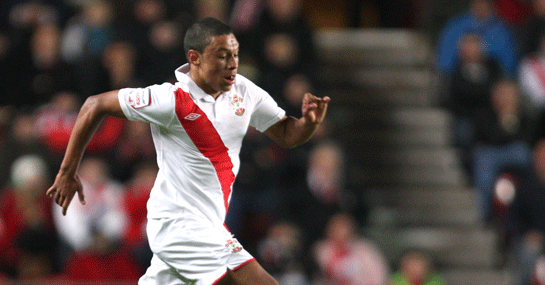 Southampton winger Alex Oxlade-Chamberlain insists he is ready for the Premier League and wants to join Arsenal.
The 17-year-old has impressed at St Mary's with his blistering pace and has long been on the radar of Gunners boss Arsene Wenger.
The Frenchman has already had one bid rejected for the England U21 international by the Championship club but is understood to be preparing another.
The Oxlade-Chamberlain hopes the Gunners, or a top-four rival, do return with a suitable offer, as it is his ambition to be fast-tracked onto the Premier League stage.
But he is grateful for the help Southampton have given him and admits he owes them a lot for giving him his start.
"I've heard Arsenal are in for me and to join a top-four club is what I hope for," Oxlade-Chamberlain told the Sun.
"When the bus comes along, you have to jump on it and make the most of your opportunities.
"It's not every day you get a chance like that. I believe in my own ability and that I have what it takes to play in the Premier League."
"I've had a chat with the manager, Nigel Adkins,
about my situation and expressed my feelings to him," he added.
"I talked about how I wanted to be playing in the Premier League as quickly as possible and he has been really understanding.
"I've been at Southampton since I was seven and enjoyed every minute of it. They've brought me up in a really good way.
"The fans and the manager have been great and the club have made me what I am today.
"But I feel it's time for the next step. The way I see it, the Premier League is where I aspire to play. You aren't at the top of the game until you get there.
"I could spend a year in the Championship and, though this might sound negative, I could get injured and that opportunity might be lost.
"The next year another young star could come through and the opening might not come around again."
FC Koln v Arsenal Live Streaming