Etihad Stadium side push ahead of Old Trafford rivals in San Siro star chase.
Join the FREE CaughtOffside Fantasy Football League and Win Big Prizes!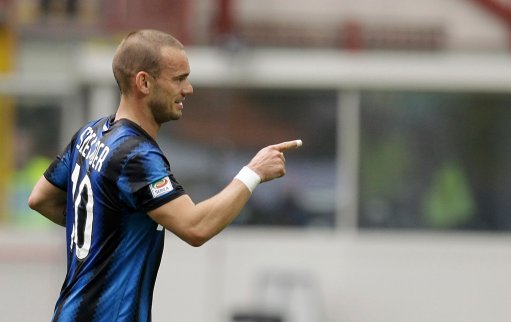 Wesley Sneijder 'offered to Man City in Carlos Tevez transfer swap'
Inter Milan have reportedly proposed a sensational swap deal with Manchester City that would see Wesley Sneijder exchanged for Carlos Tevez.
The trade would come as a massive blow to City's neighbours United, who despite recent denials, are still keen on the playmaker and would be devastated to see him move to their title rivals.
Italian sources though, have told Manchester Evening News that Inter are keen on the wantaway Blues forward, and are willing to sacrifice the Dutchman in order to get him.
A swap deal would also likely suit City and Tevez, who are both supposedly eager to avoid a deal with Corinthians.
The Brazilian's transfer proposal for the striker is beginning to look increasingly complicated, and a straight exchange for a £35million-rated player may prove the more attractive option to the Eastlands outfit.
Tevez was prepared to join Corinthians as a last resort, but a move to Milan would keep him playing at the top level, as well as represent a realistic relocation destination for his family.
SOURCE: Metro
It seems that a big stumbling block to any move to bring Wesley Sneijder to Old Trafford was reportedly his huge wage demands which could have in turn led to current Man United stars such as Wayne Rooney then in turn calling for improvements to their deals, clearly that would not be a factor that Man City would have an issue dealing with.
It appears that this source believes that the San Siro side is willing to allow their Dutch playmaker move to the Etihad Stadium as new Nerazzurri boss Gian Piero Gasperini appears to be a big fan of Argentine striker Carlos Tevez who it has emerged will not be moving to his former club Corinthians during this transfer window.
Now it would seem plausible that Roberto Mancini would be interested in Sneijder as he could add further creativity to the centre of the Man City midfield and given that they certain to lose Tevez it would clearly work well if they could use the prolific striker to help land a big name addition.
Having secured Champions League football City now look a much better prospect for prospective suitors who would previously have been accused of simply being swayed by large sums of money. Mancini now has a side that is able to compete with the best in Europe and therefore expect 'Marquee' signings to be forthcoming.
Indeed there is much speculation that Atletico Madrid striker Sergio Aguero is nearing a move to replace Tevez as Mancini also looks to trim his squad and will look to find buyers for a number of his expansive squad with the likes of Jo, Craig Bellamy, Roque Santa Cruz, Emmanuel Adebayor and Wayne Bridge whilst Shaun Wright-Phillips looks to have won a place back in Mancini's plans with some good pre-season performances.
Sir Alex Ferguson was said to be very keen on Sneijder though the Old Trafford boss did move to deny such speculation he did also state his intention to find a suitable replacement for outgoing veteran Paul Scholes, who of course retired at the end of the last campaign.
The Man United central midfield does not have much in the way of a goal threat as Darren Fletcher, Anderson, Darron Gibson and Michael Carrick have other skills to offer but clearly Ferguson would like a goalscoring midfielder similar to Scholes in his pomp and Wesley Sniejder was just one of many linked with filling that role.
Ferguson has also confirmed interest in Samir Nasri and Luka Modric from Arsenal and Tottenham respectively and there is also reported interest in Napoli's Marek Hamsik.