Mestalla star has not heard of any offer from Emirates club.
Join the FREE CaughtOffside Fantasy Football League and Win Big Prizes!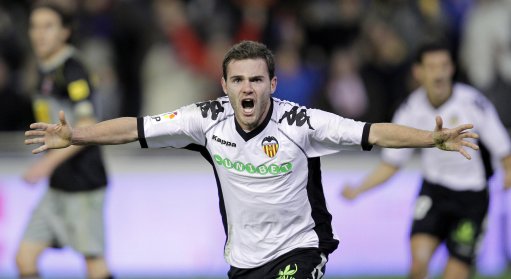 Valencia winger Juan Mata has said he does not want to leave the La Liga club despite strong interest from Arsenal.
The 23-year-old has repeated his stance of being happy in Spain and does not want to leave unless the club tell him he has to.
The Spain international, who helped his country win the World Cup and the U21 European Championship in the last 12 months, has attracted interest from Liverpool, Tottenham and Manchester City.
His manager, Unai Emery, admitted he would sell the forward if a big offer came in for Mata as Valencia is not in a great financial position.
"Valencia has to be prepared for a footballer having to leave, either because is he is not wanted or because some big club wants to sign him," he told Cadena Copa.
"We want him to stay and Mata has also expressed his wish to remain at Valencia, but we know that if a big-money offer comes in from any club and it's good for both the player and the club, it could lead to his exit."
But Mata says he is focused on his current club and claims he will not be distracted by all the transfer speculation.
"I have never said I want to leave," he told Marca.
"From here to August 31, if there are any offers then the first to know about it will be the club. I never said I wasn't happy here.
"There's no point speaking about suppositions. I like to talk about realities. I am very relaxed because if there is anything, the club will assess it.
"For me, isolating myself is no problem," he added. "I already went through it at the World Cup and at the European Under-21 Championship.
"I know the boss said something yesterday (about the possibility of me leaving), but I am not aware of any offer having arrived."