Zurich chiefs will look to pin blame on Qatari.
Join the FREE CaughtOffside Fantasy Football League and Win Big Prizes!
to Club America v Juventus with the Great New COS Facebook App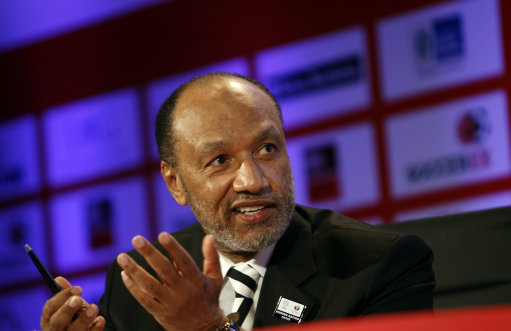 Disgraced Fifa executive member Mohamed bin Hammam will attempt to rescue his reputation tomorrow in front of an ethics committee.
The 62-year-old stands accused of attempting to bribe members of the Caribbean Football Union (CFU) to vote for him in the FIFA presidential election with cash gifts of $40,000 each.
A report into the corruption allegations says there is 'overwhelming' evidence  against the Qatari, according to PA.
FIFA vice-president Jack Warner, charged alongside Bin Hammam, has now stood down from all football activities, leaving the Qatari to face the music alone.
CFU officials Debbie Minguell and Jason Sylvester will also go before the ethics committee, but all the attention will focus on the outcome of Bin Hammam's hearing.
The former Asian Football Confederation president, who was suspended on May 29, is alleged to have stuffed brown envelopes full of cash and handed them out in hotel boardrooms.
Prompted by reports that he will be banned from football for life, Bin Hammam came out fighting on the eve of his arrival in Switzerland.
"There has been a campaign waged within certain quarters to ensure that I am seen to be guilty and eliminated from football in the court of public opinion," he wrote on his blog.
"Despite clear attempts to besmirch my name, I will not allow my own suspicions to dash my hopes or make me think I will have to travel a long and hard road to clear my name of the stain of this politically motivated affair.
"My years serving football and Fifa lead me to think the ethics committee will give me a fair hearing, uninfluenced by political agendas or other interests."
Juventus v Club America Live Streaming