Less Old Trafford supporters allowed in Anfield.
Join the FREE CaughtOffside Fantasy Football League and Win Big Prizes!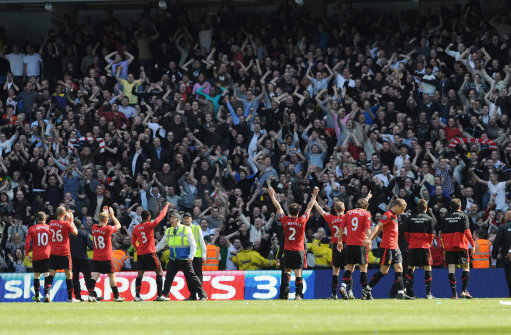 Manchester United supporters will have their ticket allocation cut for the Premier League clash with Liverpool in October because of 'persistent standing'.
A report to Liverpool City Council has recommended cutting the visiting fans' capacity from 3,015 to 1,965 to combat the problem of people blocking gangways.
The Ground Safety Advisory Group, who compiled the report after the match between the two sides in April, suggest United fans pose a greater problem than other clubs at Anfield.
Liverpool City Council's licensing committee will make a final decision on the proposal at a meeting on August 8.
"Pictures were presented which showed how the gangways at that game were affected compared to a similar high-profile game where persistent standing also occurred," said the report.
"The actions of the Manchester United supporters had overwhelmed the reasonable operations of the stewards through the management plan.
"This is an escalation of the actions of the supporters from previous games.
"It is not clear what more the club can reasonably do through stewarding measures to ensure spectators do not encroach in to gangways.
"Spectators from other away clubs attending the ground also persistently stand.
"However they do not spread out in to the gangways to the same extent that the Manchester United spectators do."