Qatari knows his fate.
Join the FREE CaughtOffside Fantasy Football League and Win Big Prizes!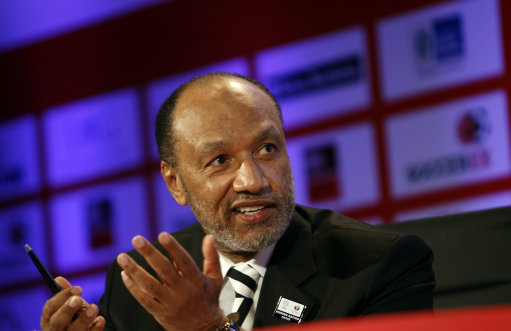 Mohamed Bin Hammam believes Fifa have already found him guilty of bribery but still vows to clear his name.
The former Asian Football Confederation president today began his fight to clear his name at a two-day hearing convened by Fifa's ethics committee in Zurich.
The Qatari, who tried to run against incumbent president Sepp Blatter, was suspended from all football activity in May will contest charges of attempting to bribe members of the Caribbean Football Union.
Bin Hammam published a blog on his website today under the title 'justice will prevail', where he labelled Fifa's evidence as "weak and unsubstantiated".
The 62-year-old labelled the evidence as "flimsy" and, despite maintaining his innocence, believes that Fifa seem likely to hand down a guilty verdict.
"I want you all to know that my legal team and I remain confident that the case and the evidence presented against me are weak and unsubstantiated," the staement read.
"They are flimsy and will not stand up to scrutiny in any court of law; that has been clear throughout this process and it remains to be so.
"If we believe earlier press statements made by Fifa officials I am not confident that the hearing will be conducted in the manner any of us would like.
"It seems likely that Fifa has already made its decision weeks ago. So, none of us should be completely surprised if a guilty verdict is returned.
"Following the events since my suspension, it now seems impossible, for them to say that they were wrong, although I wish they would have the courage to correct their mistake.
"Rest assured that justice will eventually prevail whether through the Fifa ethics committee, the Court of Arbitration of Sport or if necessary, through other courts or legal proceedings in courts where we will be equal and no special privileges will be granted to either party."