Emirates Stadium attacker to perform U-Turn, according to this source.
Join the FREE CaughtOffside Fantasy Football League and Win Big Prizes!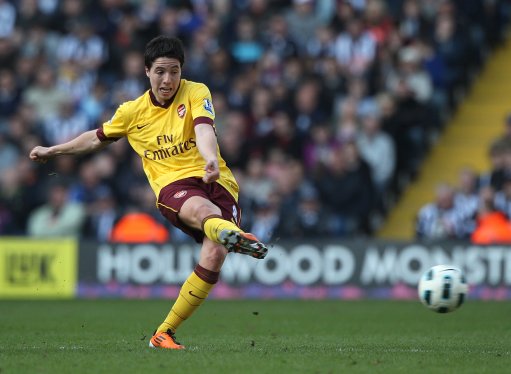 Arsenal playmaker Samir Nasri will sign a four year extension in the next few days after the Frenchman was promised that a top quality striker would be on his way to the Emirates.
The 24 year old has been on tenterhooks recently and has been considering a move away in a quest to win silverware and has been linked with a move to Manchester United, Manchester City and at one stage Chelsea. However, the promise of a top striker to be added to the squad has meant that Nasri is now prepared to sign a new deal, details of which are unclear at this time.
The striker believed to be on his way to Arsenal is that of Real Madrid forward Karim Benzema but we are unable to confirm that at this time. It has also been reported that Everton have turned down an offer from Arsenal for Phil Jagielka after we revealed the North London club had made enquiries into the defender two days ago. It is believed that Wenger will go back to Everton with an improved offer for the 28 year old.
SOURCE: FootyBunker
This source clearly sees good times ahead for Arsenal boss Arsene Wenger, but how likely are these events to unfold? Well it seems that the Gunners manager has no intention of letting French international Samir Nasri leaving this summer and he is prepared to see the 24 year old run down his contract and leaving for free next summer rather than selling the former Marseille man, which is quite a brave stance to take.
Nasri has consistently turned down offers to sign a new deal but perhaps the signing of quality players likes Phil Jagielka and particularly Real Madrid striker Karim Benzema would make the attacking midfielder re-think his position.
Last season was Nasri's most effective yet and that was despite the North London club struggling to find form and if Wenger can bring in effective players to resolve problem area's in his Emirates Stadium squad then Arsenal could end their six year wait for silverware.
Clearly the club's defence could with strengthening and having failed with a bid for Everton centre back Phil Jagielka, estimated to be in the region of £10m, the Toffees are thought to be demanding around £18m and this seems a fee that this source believes that Wenger is willing to pay.
Last summer Arsenal signed both Laurent Koscielny and Sebastien Squillaci and neither adapted well to the Premier League, looking off the pace and positionally unaware. Thomas Vermaelen is back to full fitness and perhaps a pairing with Jagielka is what Wenger is after. There is also Johan Djourou to consider, with the Swiss international looking much improved last term.
Benzema say's he is happy at the Bernabeu but is likely to not be Jose Mourinho's first choice, with Gonzalo Higuain being the Real Madrid manager's number one striker and apparently looking to bring in reinforcements that may well undermine the French international.
Wenger has been linked with the former Lyon man for quite some time and even though Arsenal have brought in Ivory Coast international Gervinho, perhaps another striker would beef up options. Robin Van Persie is after all known for his injury problems and Nicklas Bendtner and Carlos Vela may well be on their way out and Marouane Chamakh suffered a huge dip in form last term.
Arsenal supporters will be looking to Wenger to spend big this summer to help end a tough few seasons and the Frenchman is said to have plenty of cash available to invest in established experienced stars instead of having to bring in an unpolished youngster.