South American correspondent Tom Webber brings you all the action from the Copa America
Join the FREE CaughtOffside Fantasy Football League and Win Big Prizes!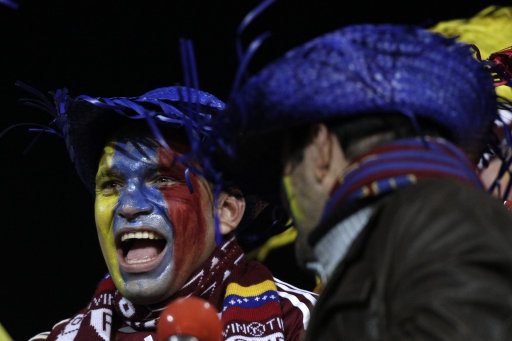 Peru and Venezuela can both be nations proud of their performances in this year's Copa America. Peru, having finished bottom of the World Cup 2010 qualifying table in South America have shown a fantastic improvement in under the guidance of Sergio Makarian. Despite injuries to key players, Claudio Pizarro and Jefferson Farfan, they have the opportunity to finish in third place this year, a stark improvement on their form in recent years.
Meanwhile, Venezuela managed to double their total amount of games won in the Copa America this year. With only two wins in previous tournaments, victories over Ecuador and Chile will provide them with a great platform to launch their campaign for World Cup 2014 qualification from. To lose on penalties in the Semi Final must have surely been a bitter blow for Cesar Farias' side, but they will take heart from their performance, in which they were a commanding presence. Paraguay's experience in a penalty shootout in the previous round against Brazil may have just given them a slight psychological advantage.
The match to decide third place between these two greatly improved nations will take place in La Plata on Saturday. Kick off will be at 20:00 UK time and should be a great display as both teams look to cap what has been a terrific tournament with a victory. Venezuela will no longer be the only team on the continent to not have achieved a placed finish in the Copa America and is evidence of the nations rapid increase in standing. They may be able to go out of the tournament without being defeated outright which would be a huge confidence boost for the emerging footballing nation.
The two finalists, Uruguay and Paraguay, have had mixed form so far. Uruguay took a while to get going but have continually improved with each game, whereas Paraguay have yet to win a game in this tournament. Their defensive, rough tactics have not always been pleasant to watch, but low and behold Paraguay have made it to the final. They can thank their goalkeeper for their miraculous appearance in the final, Justo Villar. The 'keeper has been on top form and come up with saves of the highest quality to keep his side's chances alive. He also saved penalties in shootouts against both Brazil and Venezuela.
Marcelo Estigarribia has also been inspired for Paraguay whenever he has played. He has been dazzling down the left wing, proving to be a constant threat to any defender he is faced with. He was unfortunate to miss out in the semi final as the team was tinkered with due to injuries and suspensions. He deserves a spot in the first team against Uruguay as he may well prove to be one of their main threats and sources of creativity if Roque Santa Cruz is unfit. They will be hoping to pick up only their third title, and first since 1979. For a nation who have been consistently involved at previous World Cup's, they will hope it will now breed success.
Uruguay will be looking to become the most successful nation in Copa America history with a win on Sunday evening at the Monumental in Buenos Aires. It would be their 15th Copa America title, taking them ahead of Argentina. They have not seemed as fluent as the side at last summer's World Cup but still find themselves in the Final. While Diego Forlan may not have found the net, his creativity has been key for Uruguay. He has helped bring out some great performances in Luis Suarez as he looks to become the tournaments top scorer.
Another player to impress for Uruguay has been Alvaro Pereira. The left back scored vital goals against Chile and Mexico in the Group Stages that earned his team second spot in Group C. Not only is the Porto defender solid at the back, he again likes to get forward and proves to be difficult for the opposition to handle. He has popped up in a variety of different positions during Uruguayan attacks making him extremely difficult to pick up. His performances are reported to be garnering interest from Liverpool.
Goals have not been a constant feature of the tournament this year. With such great stakes on the line, one must hope the teams will go for the win, rather than sit back and be conservative. Paraguay could become the first ever team to win the Copa America without winning a game outright. Though this may seem an interesting record to hold, it is not something the fans really want to see. No one would begrudge them the title if they won the game, even after extra time, due to Larissa Riquelme's promise to pose naked if they win.
The chances are we will see a conservative performance from Paraguay with the majority of their attacking chances involving Estigarribia – if he plays – with Nestor Ortigoza breaking up the play in midfield. If Santa Cruz is declared fit it will provide a massive boost for Paraguay and possibly see a shift from their defensive demeanor. Uruguay will hope that Forlan and Suarez will continue to create and lead them to glory. It will be interesting to see how the final plays out and whether Paraguay can match Uruguay's attacking prowess and cause a potential upset.
Read more from Tom at his excellent blog Purple Patch