Friends in high places.
Join the FREE CaughtOffside Fantasy Football League and Win Big Prizes!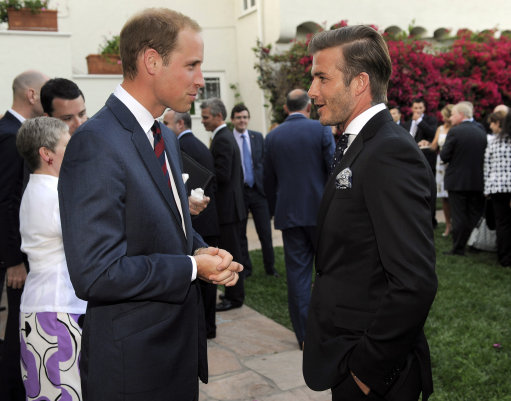 DAVID BECKHAM is set to be knighted at the end of the year.
Prime Minister David Cameron and Prince William, who has been invited to be godfather to Becks' new daughter, Harper Seven, are believed to be backing his case for a knighthood in the New Year's Honours.
They were hugely impressed by his efforts to bring the Olympics to London as well as working tirelessly with them on England's failed World Cup bid.
The Prime Minister said: "I pay tribute to David, who is an incredible role model in sport."
Sir Trevor Brooking, the last top player to be knighted, also welcomed the possibility of Beckham becoming Sir David.
"I can't think of anyone in sport more fitting to be awarded a knighthood than David Beckham," he told The Sunday Express.
"He has been a fantastic ambassador for the sport both on and off the field, a true gentleman and role model."
SOURCE: Express
How do people feel about this? Does a knighthood mean much in this day and age? David Beckham does of course do a lot of work for charity, but is that enough to earn the former Man United and Real Madrid man a 'Sir' title before he turns 40?
Also worth noting that would presumably lead to Victoria Beckham being given the title 'Lady', which is surely the moment that will lead to the end of the universe as we know it.
Thoughts please.