Emirates Stadium star plans to stick by his guns.
Join the FREE CaughtOffside Fantasy Football League and Win Big Prizes!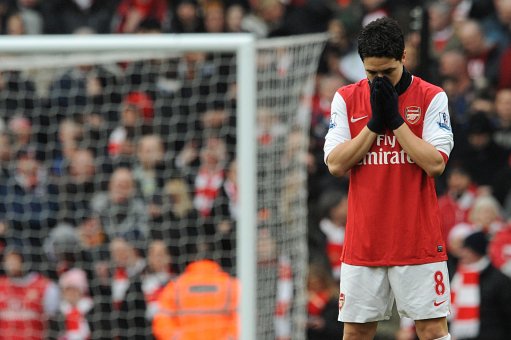 Samir Nasri: I'll play for Arsenal for another season then quit for nothing
Samir Nasri has threatened to walk away from Arsenal for nothing when his contract runs out next summer.
Related Tags:Samir NasriBarcelona
The midfielder has told his teammates that he has no plans to stay at the Emirates beyond the upcoming season, and will snub any new deal offered in a bid to move to Man City, reports the Sun.
Despite this, Arsenal boss Arsene Wenger has expressed hope that Nasri can be convinced to remain a Gunner.
When questioned about the Frenchman's future, he said: 'I want him to stay. He knows that.
'Hopefully we can sort that out in the coming weeks.'
Nasri is reportedly still hopeful that City will make a play for him this season and wants his ultimatum to force Arsenal's hand.
The French international is said to have become increasingly frustrated at Arsenal after delays putting a new contract offer into writing.
SOURCE: Metro
Whilst losing a player of Samir Nasri's undoubted quality for no fee is a big price to pay, one has to admire Arsene Wenger's approach to this issue. Having previously seen Mathieu Flamini commit a similar act of stunning disloyalty, where the French midfielder gave the impression that he had ever intention of signing a new deal, only to scarper to AC Milan when they made him a huge offer, the Arsenal boss will look to make the most of Nasri's presence this season and then cope with the consequences next summer.
Given that any serious offers for the 24 year old appear to have come from fellow Premier League sides, Wenger had even less incentive to cash in on the talented attacking midfielder. Had a big money offer come from Spain or Italy then perhaps a deal would have been struck but the Gunners manager would have been foolish to allow Nasri to join a rival side.
The player himself reportedly still believes there is a chance that he could join Gael Clichy and former team-mates Emmanuel Adebayor and Kolo Toure at the Etihad Stadium this summer but if Wenger sanctioned that sale then it would leave him looking weak and unable to commit to his principled position.
The excuse that Nasri's unwillingness to sign a new contract stems from Arsenal dragging their feet on offering him one, really doesn't hold water.
The situation is slightly similar to the situation that Harry Redknapp finds himself in with Luka Modric. The two North London side's have players who appear reticent to stay at their respective clubs and neither boss is willing to just stand back and watch them leave. Clearly in the Croatian's case, with five years left on a lengthy contract to run, Tottenham have even more reason to feel aggrieved, but the cases are similar.
One wonders how Arsenal supporters will react to Nasri's presence in the early games of the coming season. If the former Marseille man puts in some sub standard performances then he may well feel the wrath of a fanbase that feels he is trying hard to force the issue or just hasn't got his heart in it.