Disgraced Qatari wants information released into public domain.
Join the FREE CaughtOffside Fantasy Football League and Win Big Prizes!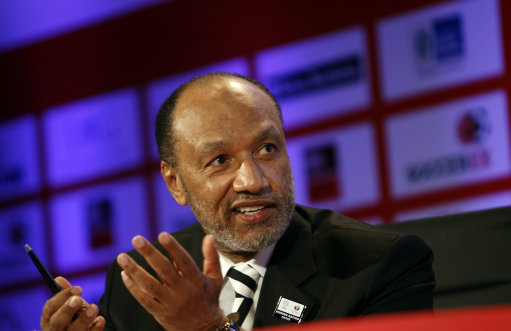 Disgraced former Asian Football Confederation president Mohamed bin Hammam has claimed he has nothing to hide despite a lifetime ban from football for bribery.
The 62-year-old was handed his punishment last weekend after a two-day trial into allegations he offered $40,000 to Caribbean Football Union members to vote for him in the Fifa presidential elections.
He pulled out of the race one the corruption came to light and was suspended by the governing body along with his accomplice Jack Warner.
The Qatari had claimed he was being punished for challenging current supremo Sepp Blatter and the money was to cover the CFU officials expenses.
In his blog today, he again denies using cash to obtain votes and reiterates his intention to appeal the suspension.
"If you wish to hear the evidence presented for and against at the hearing in an impartial way, then my lawyers have already requested the transcript should be made available to the media by Fifa so that you can judge the evidence and testimony for yourself," he said.
"I have nothing to hide and I hope Fifa will not use confidentiality as an excuse.
"After all, Fifa's record towards revealing confidential information to the media during these proceedings speaks for itself.
"Nonetheless, I am the affected party and I assure Fifa that I will never sue them for releasing the transcript of the proceedings."
Bin Hammam also said, contrary to reports, he had appeared in person in front of the Fifa ethics committee but again questioned its independence.
"This is the most serious of issues for anyone to ever have to face," he added.