Walkers Stadium hit-man enters social media with a bang – literally.
Join the FREE CaughtOffside Fantasy Football League and Win Big Prizes!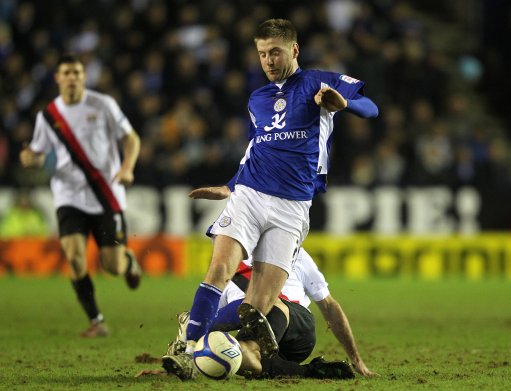 Leicester City striker Paul Gallagher has shown the way for all footballers to enter the world of social media.
The 26-year-old was egged on to become the latest player to sign up to Twitter by his wife, Hayley, and he used the network to announce:
"Off to bed to smash @HayleyGa11agher back doors in."
This was the Scotland international's first taste of the 'banter' he promised and Hayley was a little surprised and worried about what she had just unleashed.
"Omg!!," she tweeted. "Good lord what have I done introducing him to this!"
But do not expect Paul to get a frosty reception from the in-laws with Hayley's mum, Sue, apparently finding the comments hilarious.
At least his reaction to joining twitter was met with less abuse than some of his fellow football stars.
Manchester United midfielder Darron Gibson quit the social networking site after only a few hours following torrid abuse from, apparently Red Devil fans.
Gibson's team-mate Wayne Rooney threatened to "put someone asleep in 10 seconds" after the England international was told: "Rooney ya fat w***e ill smash ya head in with a pitchin wedge an bury ya with a ballast fork ya fat ugly lil n***e"