Ibrox boss unhappy with broadcaster.
Join the FREE CaughtOffside Fantasy Football League and Win Big Prizes!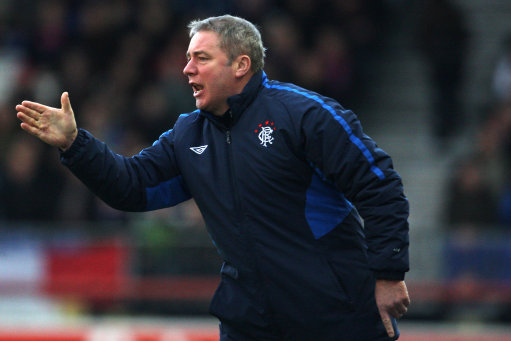 Rangers manager Ally McCoist has waged war against the BBC after the Scot was 'appalled' by the editing of his media conference on Friday.
The SPL champions are demanding an apology from the broadcaster for inserting a clip of him smiling when a reporter asked him questions about supporters' behaviour during Old Firm games.
The Gers boss used to work for the BBC as a captain of the sports quiz show Question of Sport. His stance is reminiscent of Sir Alex Ferguson's stand-off with the company.
McCoist has since banned BBC reporters from pre-match press conferences and refused to give them any interviews.
"I won't speak to anyone from the BBC until I get an apology for their broadcast last Friday night which, in my opinion, was appalling," McCoist told reporters.
"Having worked in television for a number of years I know exactly what went on.
"I can handle leftfield questions all day long, that wasn't the problem. It was how the whole interview was put across.
"While they asked the question, they showed a shot of me when I'd just answered another question.
"The whole thing was put together to show I had a flippant attitude towards either religious bigotry or trouble between Old Firm fans.
"As most people know, I don't have a flippant attitude towards those subjects. Far from it.
"There was a comment in the piece, after showing me smiling, when the reporter said: 'Well it might not bother Ally McCoist..'
"Well, believe me, it does bother Ally McCoist."
A BBC spokesman said: "We have received a complaint from Rangers which we are looking into."