Nou Camp star is about as subtle as a sledgehammer.
Join the FREE CaughtOffside Fantasy Football League and Win Big Prizes!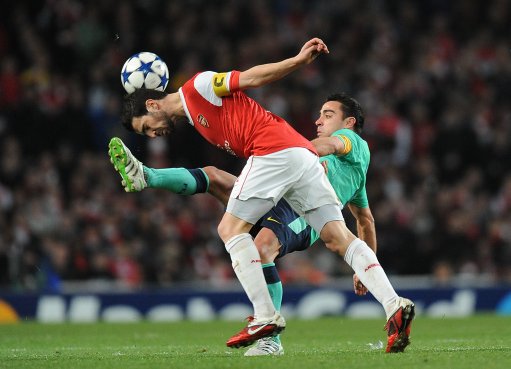 Barcelona midfielder Xavi has issued another plea to Arsenal captain Cesc Fabregas to make his move to the club this summer.
Xavi angered Gunners boss Arsene Wenger with his comments recently by stating that Fabregas was "suffering" due to being told to stay where he was.
Xavi again emphasised the ability his international counterpart possesses, and made his point by claiming Fabregas was "a piece of the puzzle" and was ready to replace him as the focal point in midfield.
"I hope the saga ends," Xavi told German newspaper Suddeutschzeitung.
"Cesc is only 24 and his arrival would ensure the current cycle of Barca continues to work.
"I'm 31 and will retire in two, three or four years.
"I hope he comes."
SOURCE: Sky Sports
Can anyone please explain to me how this doesn't contravene UEFA 'tapping-up' regulations? This is so clearly a blatant attempt to persuade a contracted player to leave their club for another. It's not even subtle and this has gone on for years, but nothing has ever been done about it. Arsene Wenger has publicly voiced his anger about Barcelona's actions and has admonished Xavi in particular for his repeated statements on the issue.
Some may state that Xavi, and others, have no other choice than to answer questions directed at them that relate to the Cesc Fabregas 'saga', well that may well be true. In that case, why don't the Barcelona players simply state "we would rather not discuss that issue as to do so would be disrespectful as the player is contracted to another club", simple really.
Instead Xavi, and many of his team-mates, seek to put pressure on the situation and keep the transfer speculation firing on all cylinders by continuing to stoke the fires with their words of wisdom on the subject. Words that almost always revolve around words like 'destiny' and 'home'.
Whilst two wrongs would not make a right, could you imagine the kind of stink that would arise if Real Madrid made similar statements about a Barcelona star?
Wenger should adopt the 'if you can't beat them, join them' model and suggest that Leo Messi is destined to return to Newell's Old Boys, where the Argentine 'belongs'.
Arsene Wenger has his fair share of problems appeasing his top performers following another disappointing season and having lost Gael Clichy to Man City, is hoping to keep Fabregas and Samir Nasri at the club and the actions of Barcelona players, and managerial staff, is undermining that in a fairly deliberate and sustained manner that is quite clearly breaking either an 'actual' law or at the very least a 'moral' one.