Will Mr. Blatter get the message…probably not.
Join the FREE CaughtOffside Fantasy Football League and Win Big Prizes!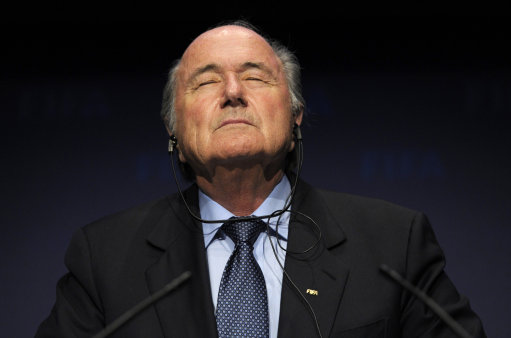 Europe's top clubs threaten Fifa revolt
Karl-Heinz Rummenigge, the chairman of the European Club Association (ECA), has called for a club-led "revolution" against the "corrupt people" who govern football and called for his members to have a say in Fifa's decision-making process.
The 55-year-old chief executive officer of Bayern Munich said he despaired at what he described as the "daily corruption process at Fifa" and asked the footballing authorities "to recognise that it's time for democracy, transparency and the right balance in the football family".
"I don't accept any longer that we [should be] guided by people who are not serious and clean," he said. "Now is the moment to intervene. Because knowing something is wrong is an obligation to change."
The ECA replaced G14 as the representative body for the leading European clubs and numbers among its members Manchester United, Chelsea, Arsenal and Liverpool. Rummenigge said there was a groundswell of public support for his stance in the wake of recent scandals, the life-ban for Mohamed bin Hammam and "questions about the Qatari World Cup".
"It's not just the top clubs, it's all the clubs. Sepp Blatter is saying [that he's cleaning up shop] but the fact that no one believes him tells you everything you need to know. I'm not optimistic because they believe the system is working perfectly as it is. It's a money machine, World Cup after World Cup. And for them, that's more important than serious and clean governance."
Rummenigge hinted at a possible breakaway from international associations if the ECA's grievances over fixture congestion are not addressed. "I will give them a chance but I'm ready for a revolution if that's the only way to come to a solution," he said.
SOURCE: Guardian
The former German striking legend also states his irritation about the rapidly increasing national team calendar, and clearly this is the factor that most interests club concerns about FIFA behaviour. However whatever Karl-Heinz Rummenigge's ulterior motives are, it is excellent to see someone in power making it perfectly clear that what is happening at the football's world governing body is simply not acceptable.
The recent witch hunt against Mohamed Bin Hammam has been particularly grotesque, whilst it may be correct to state that the Qatari may have contravened FIFA regulations but it is impossible to believe he was alone in doing so and the fact that the one high ranking representative to be punished for this offence coincidentally happened to be the one person running against Sepp Blatter in the recent presidential race, a race he then had to pull out of.
Corrupt as hell and good to see that Rummenigge is calling it as he sees it. One does wonder how such a boycott/revolution could take place but if Europe's big clubs exert enough pressure on FIFA then perhaps real change can be forced upon those in their Swiss citadels.