Anfield hero does not pull any punches in his exclusive interview with CaughtOffside.com.
Join the FREE CaughtOffside Fantasy Football League and Win Big Prizes!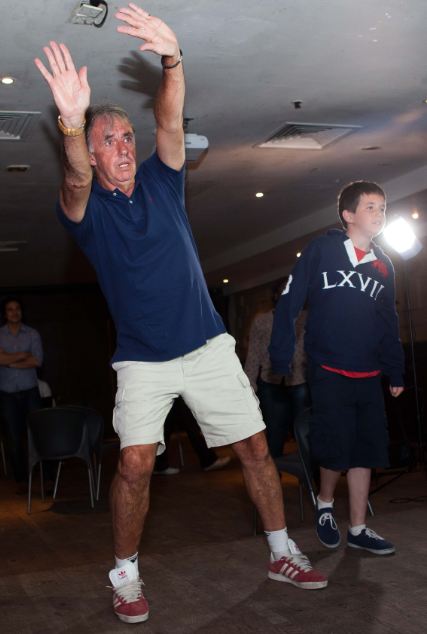 Where are Arsenal going wrong?
I can't understand why Arsenal didn't get Shay Given for £4m. (Wojciech) Szczesny will be a really good goalkeeper but he will make some mistakes. Go get Given and Szczesny can watch Given train and see how he plays and just bring him on. For £4m it is a no-brainer.
Then go and buy a centre-back who will head it every time the ball goes into the box because at the moment there is no one there who will deal with it.
If Arsene Wenger can get along the way an organiser, a leader, go and get one. Fabregas isn't a leader. He is a really good player but don't burden him with being captain. Vermaelen is not a leader either he needs to be led.
I like Wenger I think he is brilliant and I love the way his teams play but he had a team with Seaman, Dixon, Adams, Bould , Keown, Parlour, Petit, Vieira – all winners, all prepared to the ugly bit. He has got no one now. Newcastle away last year the Invincibles would have won by 8.
Go and get Gary Cahill and put him in the team. Forget about him being a brilliant passer out from the back. When the ball comes into the box he will head it, he will chuck his body in the way. Or Jagielka or somebody. Just forget what they can't do and look at what they bring to the team.
Wenger is great but he has this complete blind spot and I don't buy this 'if we qualify for the champions league we are successful'. Arsenal are better than that.
What do you think of the Cesc Fabregas and Samir Nasri transfer situations?
Fabregas doesn't want to stay, let him go and take the money.
My problem with Nasri is now that he can go to United or City, Arsenal decide to chuck money at him. If they thought he was such a good player why not put him on a proper contract in the first place? It was clear Fabregas may go anyway so Arsenal should have got into a situation with Nasri only having one year left on his contract.
I like Gervinho I think he is a player but signing strikers have never been a problem. But if you have to overpay for a striker – do it. You could argue United have overpaid for Jones from Blackburn because of his age but they are not bothered. They are going to get years from him.
Predictions for the top five?
1. Manchester United
2. Manchester City
3. Chelsea
4. Liverpool
5. Arsenal
Predictions for relegation?
You can't look past the three that have been promoted. I can't see them getting the players to keep them in the league. I think of the three QPR are the best bet because I always look at who has the strikers to keep them up. I think (Jay) Bothroyd is a good signing and they have kept hold of (Adel) Taarabt. I don't think he will be brilliant in the Premier league but he might win you the odd game. If he signs DJ Campbell, a local boy, they may win enough games to stay up.
I think Blackburn will be down there, it is really worrying me what is happening there. Wigan as well. If (Charles) N'Zogbia and (Hugo) Rodallega go they will be left thin on the ground and where are their goals going to come from? Apart from that I see West Brom and Wolves kicking on a bit.
The irony about Aston Villa is they have signed Darren Bent who scores goals for fun and then you have taken away his supply line. N'Zogbia is not a great supplier but does score goals. Villa will probably finish just under half way. But they have too much to be relegated and Given is a good signing for them.
Who will be the star of the 2011/12 season?
I think Phil Jones will get a few games for Manchester United. I think he is ready and he could even play in midfield. Fergie has looked at him in the U21s and said I need to fast-track this boy.
I'm not sure about Josh McEachran. I don't think he will get enough games even though they say the manager is raving about him.
But there are no surprises anymore Everton have a kid called Ross Barkley. He was training with the first-team at 15-years-old but broke his leg and they reckon if they can fix the leg he will have a real chance.
It's too early for Raheem Sterling. They took him away to have a look at him in Europe but they have just signed so many players. He will play in the reserves and may even loan him out to get him stronger and tougher. In the long run he has a chance.
How would you go about cleaning up Fifa?
You cannot clean Fifa up because it is like turkeys voting for Christmas – it's impossible.
The only way is if Germany, Holland, Italy France, Spain and England said; 'Right, we are going to go our separate ways' and entice the South American countries.
Unless you can start proving he has had this and he has done that but I don't think you can do that. I think it is different with Uefa. I trust Michel Platini in many ways – but I think he is going completely wrong with technology. But until you can prove people are corrupt the only thing that can be done is to get the countries together and go 'See ya'.
Because if the big eight countries went everyone would join them because that is where the TV money would go. and then they can start again. The Fifa 24-man executive committee go to a country and don't even pay tax! Everyone else does. They think they are like royalty or presidents. It is ridiculous.
What changes will there be for Match of the Day this season?
The big change will be filming in Manchester and not London from December with Football Focus coming from Manchester from August 13.
Me, (Alan) Hansen and (Alan) Shearer are delighted because it is only around the corner for us. Gary Lineker and Lee Dixon have to make the trip from south to north which we think is hilarious. They have both started whingeing about it but Hansen's been doing it for 20 years, I've been doing it for 14 and Shearer's been it for four or five so the tables have turned.
Will you ever get back into coaching?
I'd never say never because I really enjoyed coaching. I loved when I managed Oxford but I was just dealing with a bully in (Robert) Maxwell.
But I love what I do. I go to all the games with radio and TV so I get to go to all the cities. I love the job but hate the travelling, because it is not fun anymore. As anyone who goes through an airport knows but I love my job and I don't think coaching could replace it.
I think Al (Shearer) wants to do it still and he did speak to Cardiff City. He never asked me to help him at Newcastle because Ian Dowie was his man. But if he was offered the right club he would go. Any club he goes to now has to give him the best chance to be successful otherwise it might not happen. But it is in his blood and he wants to do it. You get more of a buzz when managing a winning team than when you played because you are responsible for everything
What would you change about the beautiful game?
Goal-line technology will be a must. Uefa and Fifa are frightened of TV completely running football but they already do so I wouldn't worry about that.
Why a player, when he is injured, has to go off just to come back on is ridiculous.
Anyone holding up imaginary yellow cards they should get one.
I think we might be close to sin-bins. I think that might be the next step.
Surrounding the referee and all that, I think it's time we helped them. Everyone goes on about respect but there isn't any for them. But if players were punished for harassing referees the managers would soon put a stop to it.
The big problem (with referees speaking to the media) is over major incidents, like a sending off, the player could appeal so the ref giving his view to the media could prejudice the appeal. But TV would wait for their response for them to think about their answer.
But I don't think it would take that much to clean it up. It is a great game but there are certain bad habits that have crept in and it wouldn't take that much to clean it up.
Pundit Mark Lawrenson was talking about the forthcoming new season today at the Kinect Sports for Xbox 360 football event at the Sports Café, Central London. Mark was joined by world 'keepy uppy' champion Dan Magness who successfully undertook a Guinness World Record Attempt for 'Most consecutive touches using the shoulders'. The attempt is currently being verified by Guinness.