Is Kenny Dalglish really considering bringing this lower league striker to Anfield?
Join the FREE CaughtOffside Fantasy Football League and Win Big Prizes!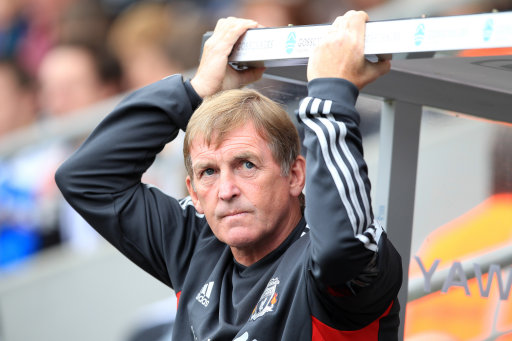 Liverpool take a Long look at Reading striker Shane's game
Liverpool have watched Shane Long to assess the hype around the Reading striker.
Scouts from Anfield saw the Republic of Ireland international score twice during his side's friendly with Northampton at the weekend.
Long, 24, had been a target for West Brom and Everton but, as yet, West Ham are the only side to express a serious interest in a player who scored 28 goals last season. The London club made a £6m bid which was rejected.
Alberto Aquilani is expected to complete a season-long loan to Fiorentina in the next
48 hours while Fulham, FC Copenhagen and Udinese are monitoring Christian Poulsen.
Mexican starlet Marco Bueno will join Liverpool on trial with a view to signing a five-year deal.
SOURCE: Daily Mail
Could this really be possible? Why would Liverpool be scouting for new striker talent in the Championship? Whilst one could understand such a move for a player who was perhaps a teenager or had just made an impact in the game, but Shane Long is 24 and whilst last term he scored a hatful of goals, one would do well to look at the Irish international's overall club record.
The pint sized striker has notched up 202 appearances for the Royals and has racked up 54 goals, that is not exactly prolific. If you then dig deeper and look at the striker's record during Reading's Premier League spell, then the statistics look even less impressive. During the two seasons the club was in the English top tier Long made 50 appearances, many of which admittedly were coming off the bench, however the former Cork City man only managed to score five goals in that time.
Look even closer and you will see he scored three of those goals against relatively average sides Sheffield United, Wigan and Portsmouth.
The fact that French striker David N'Gog has a better Premier League strike record say's it all, and at least the PSG man can say he is two years younger than the Reading man.
It seems that such talk of interest in Long may well be brought about by a good agent because there appears to be little sense in a side pushing to get back into a top four slot would be after an average Championship striker.
Dalglish has a Luis Suarez and Andy Carroll as his starting strike pair and can if needed opt to use Dirk Kuyt, who of course was a hugely successful striker in Holland before he was converted into a right winger. Whilst there may be need to beef up attacking options one would have thought that it would make more sense to use the club's youngsters to fill such a role.
Spaniard Daniel Pacheco or up and coming Nathan Eccleston may be worthy of a spot on the bench for the coming season, that would perhaps negate the need to fork out on a new addition, especially one who seems woefully inadequate for the task.
Reading are reportedly holding out for £10m for Long, a fee they are sure to struggle to reach.