Latest Etihad Stadium signing vows to revolutionise football.
Join the FREE CaughtOffside Fantasy Football League and Win Big Prizes!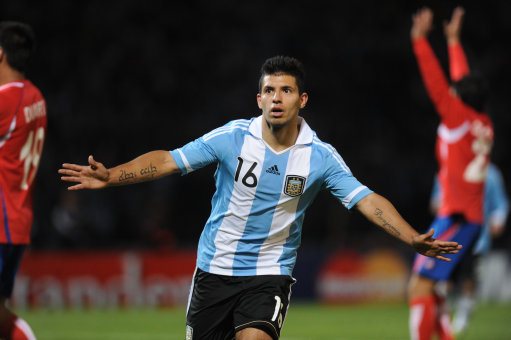 Manchester City's newest striker Sergio Aguero will aim to embarass Premier League defenders with his skills and tricks.
The 23-year-old, who has called himself "the Che Guevara of modern soccer", claims that he will revolutionise the way football is played.
He will cost the Champions League newcomers around £38 million, and all that is now left is for the club to confirm the deal.
Only four players – Lionel Messi, David Villa, Diego Forlan and Frederic Kanoute – scored more La Liga goals than Aguero since he moved to Atletico from Independiente in 2006.
The Argentina international was quick to distance himself from comparisons to his father-in-law, Diego Maradona, but says he has the same ability to change the face of the game.
"No one will ever be exactly like Maradona again but I really think that every so often there is a total revolution in football and someone needs to be the revolutionary who starts things off," he told the Sun.
"That's me. Maradona made some 'noise' in his day and I want to roar a bit in my day – now.
"I like tricks, I like to dazzle, I like to be able to score a goal with one leg bent round the other so that you smack the ball into the net with your wrong foot.
"Dribbling and leaving your opponent on his backside is what life is for.
"If I achieve what I want to then I'll mark a distinct era in football. I'm the Che Guevara of modern soccer."