Tekkers!
Join the FREE CaughtOffside Fantasy Football League and Win Big Prizes!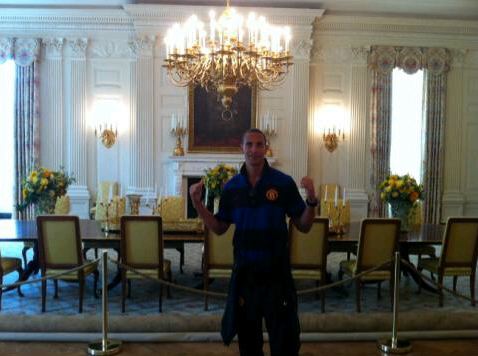 Manchester United star Rio Ferdinand sparked a CIA security alert when he posted a picture of White House security staff on Twitter during a guided tour.
The England international complained online after it appeared that his account on the micro-blogging site had been accessed when he realised the images had been deleted by Barack Obama's security staff.
Rio was left flummoxed when he realised it had disappeared and joked how he felt like he was being watched by someone like TV's counter-terrorism agent Jack Bauer from 24.
The father-of-three told his army of over 1million Twitter followers how much he was enjoying the tour before posting pictures showing him in the state dinning room and then with security staff.
He cheekily tweeted: 'the security needs beefing up here at the White House….!!'
Just seconds later the picture mysteriously vanished.
Rattled Rio tweeted: 'Whoa….some1 has got into my phone + taken down my pics off twitter….this is deep…is jack Bauer in Washington?!
'What an experience having the opportunity to go into the White House, thank you…..now where are my pics????
And then: 'My pic of the security was #removed quick, rapido, sharpish, fast….they don't play here in DC…I feel like I'm on 24 right now #baffled.
SOURCE: Daily Mail
One wonders if the Daily Mail may have slightly exaggerated the severity of this incident. It is unlikely that the CIA were on security alert following Rio's tweeting behaviour, although it would of course be most amusing if the White House security system was put in jeopardy by Mr. Ferdinand's twitter escapades, perhaps the economic downturn has had a knock on effect on the policing of Barack Obama's pad?
In other news Michael Owen was escorted off the premises after he was found in the White House stables…