With the most prominent transfer saga of recent years continuing and the emergence of Thiago Alacantra, where would the Arsenal Skipper fit in to the European Champions side?
Join the FREE CaughtOffside Fantasy Football League and Win Big Prizes!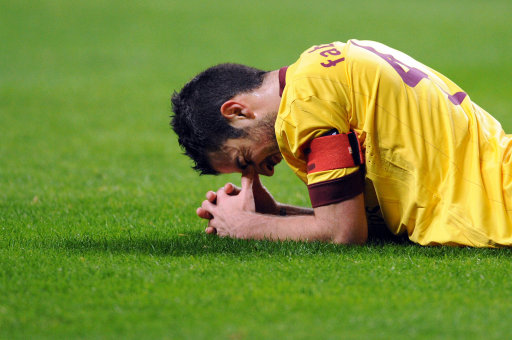 It seems almost a staple of the summer these days to have a huge transfer saga that drags on and on, that everyone eventually loses interest in. The Cesc Fabregas saga has become a fixture of the off-season in the last few years, and it shows no sign of letting up any time soon. The Catalan club are reported to be sticking at the £35 million mark, when Arsenal want £40 million. I'm debating beginning a fund raising mission to fill the gap in Barcelona's offer just to put an end to it!
However, if Barcelona did actually manage to get the transfer finalised this summer, which becomes less and less likely with each passing day, where would he fit into the team?
Barcelona's midfield three of Sergio Busquets holding, with Andres Iniesta and Xavi playing ahead of him is particularly solid. These three play a part in keeping Fabregas out of the Spanish starting line up. So if they are keeping him out of the national first team, why would it be any different at Barcelona?
To get the best out of Fabregas, they would want to ideally play him in the centre of the park, where Iniesta and Xavi are the residents. Playing him in a deeper role would hardly be beneficial. Besides if the holding midfielder Busquets was unavailable for any particular match, Javier Mascherano would be chosen ahead of Fabregas in that position. While Mascherano may not have the passing ability or vision of Fabregas, he is the better tackler by some way and would break the play up more effectively.
This pre-season has also seen the emergence of another young midfield talent at Barcelona, that of Thiago Alcantara. The young Spaniard has been in scintillating form in the past few weeks, scoring cracking goals at the Audi Cup and against Manchester United. This coming after the youngster was an integral part of Spain's Under 21 European Championship victory. Such performances cannot go unnoticed or unrewarded and so Thiago can expect to increase his number of appearances for the club in the coming season.
One option could have been to put Iniesta out wide, drop Pedro Rodriguez, and play Fabregas in midfield with Xavi. However, the signing of Alexis Sanchez from Udinese makes this an unlikely scenario. A change in formation could enable Fabregas to have a role in the starting line up, but a lack of wide midfielders would make for a very narrow style. Using wingers in a deeper role would only damage their tactics.
With Xavi at 31, and Fabregas wanting to return to the Nou Camp, after a few more solid years from the Catalan idol, Fabregas would be the ideal replacement. He will face stiff competition from young Thiago however who will also want to press for a starting position. If Barca do not sign Fabregas, they will still be the best team in the world. If they do sign him, they will become even stronger with a tremendous amount of midfield talent. Fabregas and Thiago may compete if the Arsenal man signs, but they may also be the future of Barcelona's central midfield.
Read more from Tom at his excellent blog Purple Patch