New Ewood Park star cannot wait to start scoring goals.
Join the FREE CaughtOffside Fantasy Football League and Win Big Prizes!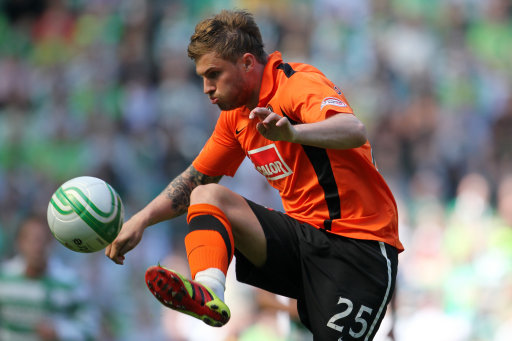 New Blackburn Rovers striker David Goodwillie is excited to sign for the club and be given the opportunity to play in the Premier League.
The 22-year-old sealed a £2million deal from Dundee United yesterday and immediately set his sights on beating the best defences in England.
Rovers saw off fierce competition from Rangers to sign the Scotland international and represents a coup for manager Steve Kean.
After weeks of uncertainty over where he would be playing, Goodwillie was relieved to sign and could make his debut this weekend against Kilmarnock but admits he may need time to adjust.
"I can settle down now and concentrate on my football," he told the club's website. "I think this could be a really good season for Blackburn.
"The new owners are exciting and they want players and I'm looking forward to playing under them.
"I think it's a massive stage to further my career and there's no better place to play than the Premier League.
"Growing up you want to play in the Premier League and I'm really grateful to have that opportunity.
"I think it's every young boy's dream to play in England at some point in their career. I feel ready, and it's up to the manager and we'll see what happens."
"I think the first few games it will be difficult for me to settle, it's probably a better standard [than the Scottish Premier League]," he added.
"I'm just looking forward to the challenge. It's exciting. It's really exciting."
Blackburn v Wolves Live Streaming