Emirates Stadium boss ready to bring in new additions.
Join the FREE CaughtOffside Fantasy Football League and Win Big Prizes!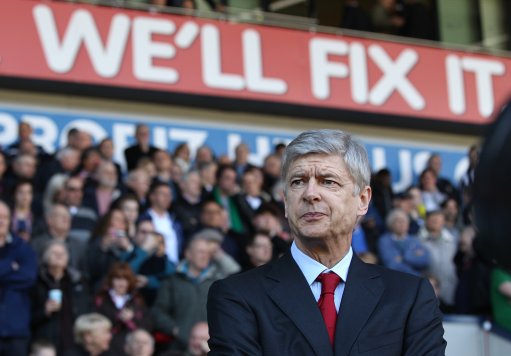 Arsenal will this week sign Alex Oxlade-Chamberlain from Southampton for £12million.
The winger – who will be 18 on Monday week – has emerged as one of the most exciting prospects in the country.
The initial down payment will be around £7 million and the fee will rise according to appearances.
The next decision for Wenger concerns a centre-back. The three on his list are Phil Jagielka of Everton, Christopher Samba of Blackburn and Gary Cahill of Bolton.
The stumbling block concerning Jagielka is the £18m asking price for a player who will be 29 this month.
Wenger is thought to favour a move for Samba.
But he will have competition from Tottenham for the Congo international and it may be Wenger will opt for Cahill.
SOURCE: Daily Mirror
Arsene Wenger is determined to bring in new signings to his Gunners squad but thus far has struggled to complete much in the way of transfer deals, having brought in just Carl Jenkinson and Gervinho thus far and the search for an adequate centre back to help beef up the back line appears to be gathering apace.
Last summer's acquisitions, Laurent Koscielny and Sebastien Squillaci failed to adapt to Premier League action and the threadbare nature of the Arsenal defence has also been noted during the pre-season matches which have seen the North London club fail to keep clean sheets in five or their six games and making elementary mistakes that have worried Wenger.
Having made an unsuccessful bid for Everton's Phil Jagielka this source claims that moves will be made next week to bring in either Gary Cahill, who appears very much to be available as long as the right price is paid, and Christopher Samba, who has stated his intention to leave Ewood Park on a number of occasions.
Whilst clearly prices for these defensive options may appear inflated, such is the nature of the transfer market as a whole, Wenger will know that failure to bring in defensive reinforcements is not an option. Last season the club conceded as many goals than in any other season since the Frenchman took charge of the club.
Arsenal will reportedly sign Alex Oxlade-Chamberlain on Monday and whilst such a signing shows that the club is as always planning for the future, it is not the kind of signing that will convince the club's supporters that there will be an end to six seasons without silverware any time soon.
Of course Wenger also has to cope with the fact that Cesc Fabregas and Samir Nasri are both marked men and the Spaniard's continued absence from pre-season activity has only led to speculation that Barcelona will finally get their man, the key date in this saga being August 16th, when the club take on Udinese in the Champions League.
Barcelona will not touch Fabregas with a bargepole if he takes part in the game and therefore is unable to play for the Catalan side in the same tournament.
Samir Nasri has supposedly fallen out with Wenger in recent days and the battle to keep the Frenchman at the club continues. The Arsenal boss has stated he does not intend to sell the former Marseille man this summer, preferring to have him on board this season before he presumably leaves for free next summer, however the decision to keep an unhappy player at the club is a risky one to take.