White Hart Lane star wants to make an impact this season.
Join the FREE CaughtOffside Fantasy Football League and Win Big Prizes!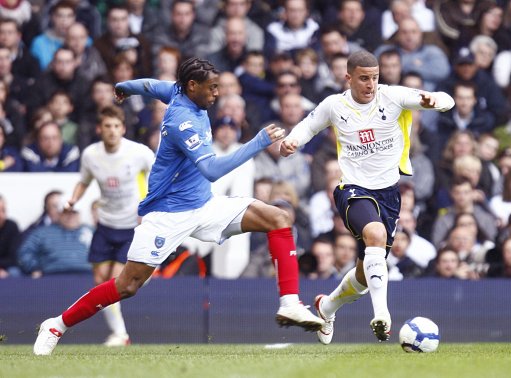 Tottenham Hotspur defender Kyle Walker plans to take Europe by storm with his club this season and next summer in an England shirt.
The 21-year-old caught the eye last season following a successful loan spell at Aston Villa and a superb performance against Spain in the U21 European Championships.
His performance in that game led him to being labelled the 'new Roberto Carlos' by sections of the foreign media.
While the England U21 international is quick to play down the comparisons, he wants to establish himself for club and country this season.
Walker has just signed a new five-year deal at Spurs and is looking forward to playing in the Europa League for the north Londoners.
He is aware a good season with his club could mean a spot on the plane for Euro 2012 tournament next summer.
But first he wants to make his senior national debut and with Glen Johnson missing through injury, his chance could be on Wednesday at Wembley against Holland.
"It's been a whirlwind two years," Walker said. "There have been a lot of big steps in my career.
"The summer has been all football but it's all been good. The Tottenham contract, I'm happy for, and hopefully I can get into the team now and push forward there.
"There are a lot of quality players at Tottenham and it is going to be difficult.
"But it is massively important for me to be playing week in and week out. I've had a taste of it at Villa, playing week-in and week-out at Premier League level.
"I'd like to think I've proved I can play Premier League football and hopefully the gaffer (Harry Redknapp) puts some trust in me and plays me.
"I feel at Spurs I need to get a couple of games and show the gaffer what I can do and also the fans who have seen very little of me.
"It should be a special occasion in anyone's career to play for your country," he added.
"Who wouldn't be excited? It's what I dreamed off since I started playing football, to play for England, and hopefully it comes.
"Playing for your country is massive at any level and to go to Euro 2012 would be something special.
"It would be a special moment in my career – and I want to play.
"But I've got to take small steps rather than looking for a year's progress, I want to take small steps and see what happens.
"I'm just turned 21 and I'm willing to learn, and hopefully I can learn off the likes of John Terry, Rio Ferdinand, and take a leaf out of their book."
"The U21 tournament is a good level, it was a good experience for me, getting away with England and hopefully preparing myself for future tournaments to come.
"It did help me. I did well although the tournament for the team was not what we expected. It was on TV and hopefully I did the right things."
"I'm a defender. My main objective is to defend. Going forward is just a bonus of my game and I just want to learn off defenders really.
"But I started off as a centre-forward and that has probably helped me out a lot.
"I like to go forward, I like to attack, and wingers don't want to track you back these days."
England v Holland Live Streaming