Old Trafford and Etihad Stadium clubs met, but who is the real winner?
Join the FREE CaughtOffside Fantasy Football League and Win Big Prizes!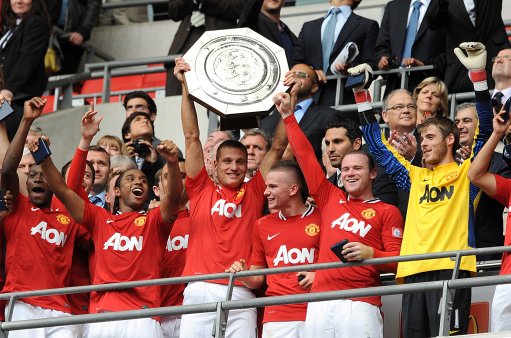 Manchester United versus Manchester City. Forget Chelsea and Arsenal. No longer are the Londoners the main threat to United's Premier League Crown. This was the battle of Manchester.
Last season, City earned their first trophy in 35 years, and United won a record 19th league title, though were defeated by City en route to the FA Cup Final.
This was a matter of revenge, and boy did United take it.
In this encounter, United's fourth appearance in the Community Shield in five years, it looked very likely at half time that City would make it two Wembley wins out of two over their arch rivals.
Goals from Joleon Lescott and Edin Dzeko looked to have given the blues an unassailable lead at half time, but the reds had other ideas.
Arguably the better side for the majority of the 90 minutes, United snatched two goals within fifteen minutes of the restart to bring the tie level, with goals from defender Chris Smalling and the ever improving Luis Nani.
With the tie balanced on a knifes edge, and with a dreaded penalty shoot out looming, Nani settled proceedings with a skilful second goal to win the tie for United 3-2.
But what does this mean in the Battle of Manchester? For City, famously dubbed "the noisy neighbours" by Sir Alex, this will serve as a reminder that they are not quite the best team in Manchester.
For United, this is yet another trophy to add to their heaving cabinet – their nineteenth Community Shield victory to date – That's sixteen more than City have managed, who last won this competition in 1982.
There was little doubt after yesterday's result that United are still the team to beat in Manchester, and arguably the Premier League as a whole. By the full time whistle, the reds had bossed possession by an astonishingly dominant sixty three percent compared to City's thirty seven percent. The second half was a red tidal wave of dominance capped off with a deserved solo goal which saw Nani run half the length of the pitch.
As For Manchester City, they will be hitting the headlines for all the wrong reasons. The despairingly manic Mario Balotelli first needlessly clashed heads with Nemanja Vidic, rolled around clutching his face after a fair tackle by Nani and was then hauled off before the hour mark, storming down the tunnel. Vincent Kompany, usually a reliable defender for City, was at fault for the final killer goal.
If this hadn't just been a "friendly", Micah Richard's would surely have seen red for a late, over the top, studs up tackle on new boy Ashley Young as well.
Football won the day yesterday. United played with attacking flair and audacious attitude and had more than a touch of solidity in defence, with Smalling and Jones reminding Ferdinand and Vidic that their first team places are far from safe.
Even City manager Roberto Mancini admitted his team were outclassed, commenting after the game, "maybe they played better than us."
They did. At half time, staring down the barrel of a two nil defeat, Sir Alex hauled off the aforementioned defenders as well as Michael Carrick in place of youngsters Johnny Evans, Phil Jones and Tom Cleverly.
Many a United fan would have been forgiven for venting frustration at these changes – not quite the players you want to be coming on after half time to claw back a two goal deficit, especially with last seasons joint top goal scorer Dimitar Berbatov warming the bench until the final five minutes.
It would have given United fans the excuse to turn around and claim to the baying City fans that they weren't taking this match seriously, however.
But the gamble paid dividends as United shockingly and superbly surged forward and snatched two quick fire goals within fifteen minutes of the restart, and there was never any question really who would get the third.
Rooney was quick to rub the salt into City's wounds after the game, claiming City were taught "a footballing lesson".
There is not a lot to be gleaned from this game however. After all, it was only an exhibition and City were missing top goal scorer Carlos Tevez and new signing Sergio Aguero.
Arsenal humiliated United in 1998's competition three goals to nil, and United themselves went on to clinch a treble, of course.
Since 1992 when the Premier League was conceived, only 37 percent of the Community Shield winners have gone on to win the title, that's seven out of nineteen.
But there is a trend beginning to gain speed. Ever since 2007, every team that has won the Community Shield has won the Premier League.
So maybe there is a little to be taken from this game, that is if you are superstitious.
What it does tell us though is that whilst City can continue to challenge for honours by buying the best, United can always rely on youth.
United's new winger Ashley Young was the oldest man on the pitch yesterday, with Ryan Giggs sitting out the game. At the ripe old age of twenty six, he was United's most senior player.
New goalkeeper De Gea, whilst unconvincing for the most part yesterday, is after all only twenty, Chris Smalling is twenty one and his defensive partner Phil Jones, who came on as a second half substitute and looked rock solid, is only nineteen. Johnny Evans is twenty four, Rafael is twenty one, Anderson is twenty three and Cleverly is twenty one.
Nani and Rooney meanwhile are twenty four and twenty five respectively, and Danny Welbeck, who enjoyed a fantastic loan spell with Steve Bruce's Sunderland last season is only twenty.
And who can forget the ridiculously talented Javier Hernandez? He's only twenty three, by the way.
The average age of Manchester United's team yesterday was twenty two. Compare that to Chelsea's ageing squad – Frank Lampard and Didier Drogba are thirty three, Nicholas Anelka is thirty two, Florent Malouda is thirty one and John Terry is thirty.
Alan Hanson once wrongly stated that "You'll never win anything with kids" but that theory was once again discredited yesterday.
Indeed, it seems United have been rebuilt yet again under Sir Alex. Gone are Van Der Sar, Gary Neville,  Paul Scholes, Wes Brown and John O Shea. Whilst he may not have the financial clout to compete with City and Chelsea to replace all these players, he does have some wonderful ready made young talent at his disposal, and who can argue with that when they can turn in this sort of performance?
The future at Manchester United seems incredibly bright, especially as it transpired over the weekend that the Glazers look to be paying off £400 million of their £500 million debt.
To City's credit, they do look like United's most serious contenders. They can buy three more world class players within the next week without batting an eye lid, and can do the same in January. And who can argue that with Argentina's two first choice strikers up front, they won't pose a formidable threat to any team?
If they continue stock piling some of the worlds finest players then it can't be long before they finally upset the apple cart of the big four. They always have that cash to continuously improve, which must make them one of the favourites this season.
Arsenal have so far failed largely to improve on last seasons fourth place  team, and Chelsea and Tottenham have been surprisingly quiet in the transfer window, presumably content to rely on Fernando Torres and Luka Modric, respectively.
United's biggest threat, bar Liverpool, has usually come from London in the shape of Arsenal and Chelsea.
But last season United dominated an ageing Chelsea squad and were victorious over them four times out of five.
After City came so close to conquering United for a second time in a row yesterday, perhaps their real enemy is a little bit closer to home.
Only time will tell.
Bring on the new season.
West Brom v Man United Live Streaming