Emirates latest starlet hopes to follow in their footsteps.
Join the FREE CaughtOffside Fantasy Football League and Win Big Prizes!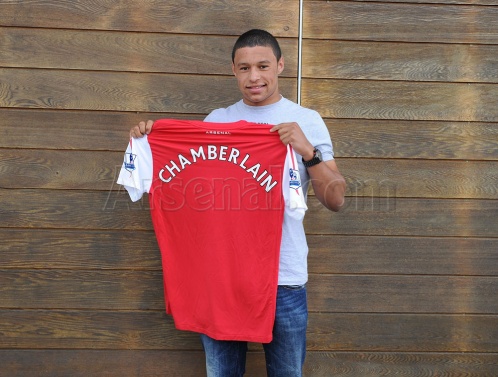 Arsenal midfielder Alex Oxlade-Chamberlain says watching Thierry Henry and company as a child helped secure his £15million move to north London.
The 17-year-old completed his dream move yesterday after the Gunners finally agreed to Southampton's asking price.
The England U21 international explained how years of studying the way Arsenal play under Arsene Wenger influenced his own game – and inparticular Henry.
The Frenchman was a big influence on him coming to the Emirates as was Theo Walcott and the chance to work under 'Le Professeur' as well.
"I've never really been a mad fan of anyone but Arsenal definitely were one of the teams I've always followed," he told the club's website.
"I think that's the best way to learn to play football, watching the boys at Arsenal."
"As I was growing up, Thierry Henry was always star man on Match of the Day. All the highlights were of him because he was scoring week in, week out.
"The goals he scored were fantastic and the play he created around him with the rest of the players, it was just exciting to watch."
The man currently in possession of Henry's old number 14 jersey has proven just as much of an inspiration to the Gunners new boy.
"The way I saw Theo when he left Southampton and took off here, it's been really encouraging for me," Oxlade-Chamberlain added. "He's a great player.
"To go on like he has to play for England and score goals for England, and do as well as he has for Arsenal, it definitely gave me confidence and helped my decision."
As did manager Wenger's reputation for blooding youngsters.
"That was one of the reasons why I wanted to come to Arsenal, because I really believe that he knows what he's doing.
"I think he knows what to do to develop me in the best way.
"I want to come here and win as much as I can. The club's got the talent here and the ability to do that. I can't really explain what was wrong or what wasn't wrong.
"The way I saw it, they played fantastic football and the infrastructure of the club and everything here is spot-on.
"It's just waiting to happen, I think."
Newcastle v Arsenal Live Streaming
Join the FREE CaughtOffside Fantasy Football League and Win Big Prizes!