Emirates duo off to pastures new?
Join the FREE CaughtOffside Fantasy Football League and Win Big Prizes!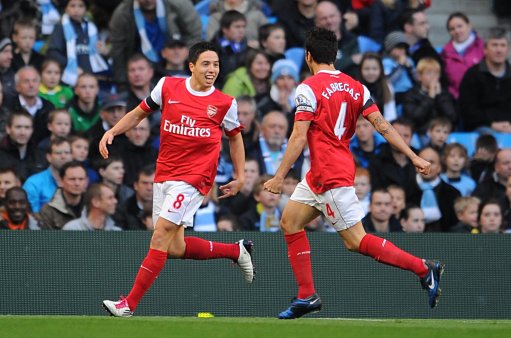 Arsenal striker Marouane Chamakh expects team-mates Samir Nasri and Cesc Fabregas to leave the club this summer.
Nasri is expected to complete a £22million move to Manchester City in the next few days after refusing to sign a new contract.
The 24-year-old has only one-year remaining on his current deal and has reportedly already agreed terms on a £185,00-a-week five-year contract with the Blues.
Captain Fabregas has been chased by his hometown club Barcelona for the last 18 months, with Arsenal rejecting two bids already this summer.
The Gunners will let the 24-year-old leave if the Catalans can match their £40million valuation for the playmaker.
Both players have been included in the Champions League qualifier squad against Udinese, but this could be to force the rival clubs hands.
Should either player take any part in the game, they will not be eligible to play for another club for the rest of the competition, making them less attractive signings.
But Chamakh admits it is only a matter of time before the want-away duo get their wish and exit the Emirates.
"I think both of them are likely leaving the club," Chamakh told L'Equipe. "It's a difficult situation for the manager.
"I don't think it's a matter of money for Fabregas or Samir. I think he (Wenger) is looking for their successors and he hasn't found them.
"I think before letting them go he wants to find the players to replace them.
"That's my opinion about the situation. The problem is the season starts this weekend, and it's even more difficult for us.
"I think in the situation the club was in, they could let only one leave. Especially Cesc, he wants to leave for several seasons because he's born in Barcelona.
"But Samir is now in a situation where he has one-year left on his contract, so if they don't sell him this summer he will leave for free at the end of the season.
"Is the club ready to refuse a little bit more than €20 million to keep a good player for one season?
"It's strange, at a club like Arsenal, that he's now with one-year left on his contract, that the club couldn't make him sign a new contract before."
Newcastle v Arsenal Live Streaming
Join the FREE CaughtOffside Fantasy Football League and Win Big Prizes!