Officials need to be shown more respect says Hawthorns boss.
Join the FREE CaughtOffside Fantasy Football League and Win Big Prizes!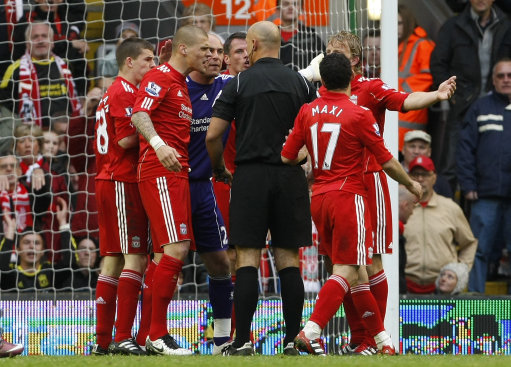 The Premier League have launched a new campaign to give referees more protections and respect this season.
The 'Get on with the Game' campaign will look to reduce the number of incidents of dissent towards officials from players and managers, according to chief executive Richard Scudamore.
He is convinced the new initiative will lead to a reduction in incidents of match officials being disrespected.
"We've gone to the Professional Game Match Officials Board (PGMOB) and asked them what will help them," Scudamore said at the official launch of the new season in London today.
"We came up with a reduction in disrespectful behaviour, turning backs on referees and we don't want players surrounding referees, as well as the conduct of managers.
"In post-match interviews we don't want to stamp out constructive criticism, but it's more about the colour and the disrespectful language.
"We heralded the idea we were going to look at something over the summer. It's the first time we've met with all the players together.
"We met with [Professional Footballers' Association chief executive] Gordon Taylor, representatives of players from all the clubs. That was very positive.
"They to a man said the relationship between the referees and players had improved since the 2008 launch.
"They were keen to make sure we didn't throw all those things out. The players themselves understand.
"All the managers have been to pre-season meetings – again, very very constructive.
"My confidence comes from the willingness of those people to engage in this discussion.
"Of course we're all waiting on the first incident – there's always going to be incidents. We're looking to reduce the incidents, but we won't eliminate them."
Scudamore was joined by West Brom manager Roy Hodgson, and he endorsed the move.
"Referees are an integral part of our game and some times we are less kind to them than we should be," Hodgson said.
"We all make mistakes, managers, players and referees.
"If we are caught out letting our emotions run away with us, we know the day after we are wrong and that we shouldn't do it.
"These initiatives are really important and we really need to stress it.
"If you don't behave properly, how can you expect the younger people around you to behave properly?
"Maybe (we should) try to encourage players to stop seeing referees as some sort of fearful policeman-type figure who's got nothing to go with football and embrace the fact he's there to do his job.
"He's got a performance to put on on a Saturday afternoon on which he's going to be judged and through which he'll either continue as a (top-flight) referee and go up the ladder or unfortunately, like the snake, slide down the ladder."
Join the FREE CaughtOffside Fantasy Football League and Win Big Prizes!