St James' Park bad boy is not popular at the Emirates.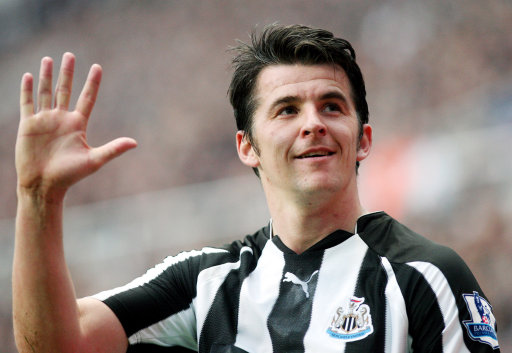 Newcastle United midfielder Joey Barton ended a controversial opening day of the season by catching a burglar breaking into a neighbour's house.
The 28-year-old was involved in the incident that saw Arsenal forward Gervinho sent off during the 0-0 draw at St James' Park.
Barton was only included in the starting line-up after persuading his manager, Alan Pardew, he was fully focused on the game.
He was initially the victim when Alex Song appeared to stamp on him following an uncompromising challenge.
But, if he was blameless on that occasion,is reaction to the game's major incident, sparked an untidy melee 15 minutes from time.
Barton angrily confronted Gervinho in the belief he had dived in an attempt to win a penalty as he tried to skip past Cheick Tiote inside the penalty area.
He hauled the Ivorian to his feet and received a slap from Gervinho in the face.
Barton fell to the ground – he later admitted with a little too much ease – and referee Peter Walton produced a red card for Gervinho and a yellow for the Newcastle midfielder.
Gunners boss Arsene Wenger insisted both men should have suffered the same fate and revealed his player had assured him he had not dived.
Barton was then involved in a number of rows on Twitter with journalists including Arsenal fan Piers Morgan. He also had an exchange with Jack Wilshere over the sending-off of Gervinho.
The drama was to continue overnight when he was roused from his post-match slumber by an intruder trying to break into a neighbour's house.
He tweeted: "5.26am was awoken by a banging sound, burglar attempting to break in to neighbour's house. Needless to say, he was disturbed and apprehended.
"He was so subtle, he attempted to put a massive log through the window in broad daylight. Police have him now 4th break in of the night £scum.
"What with the burglar and Arsenal game, it's been an incident-packed 24hrs."
Join the FREE CaughtOffside Fantasy Football League and Win Big Prizes!